I was watching the Little Paris Kitchen one recent weekend and spotted Rachel's Croque Madame Muffins which looked so easy I immediately jumped up to make them for lunch.  I didn't have any ham so used up some herbs and added heaps of cheese.  This recipe was also serendipitous because my organic fruit & veg people sent me a free pack of small eggs and they were perfect for these muffins.
Anyway, these little tart/muffin hybrids were really tasty, delicious actually, basically a crunchy base with creamy, herbed, cheesy eggs and I recommend making them – a handful of dressed, crunchy salad on the side would work well.  A word of warning though, they are very hot out of the oven (well duh) but of course naturally I stuck into them and burned my mouth.  Yet kept eating.  Why?!  This is one of the big questions, FYI I also do this with hot chips.
Note: I found it a bit challenging to get the eggs to stay at a runny consistency as I needed to cook these for at least 14 minutes for the crust to become brown and crisp; if you prefer your eggs on the really soft side, I would use larger sized eggs and get rid of some of the egg white so you'll be left with a bigger egg yolk which won't cook as fast.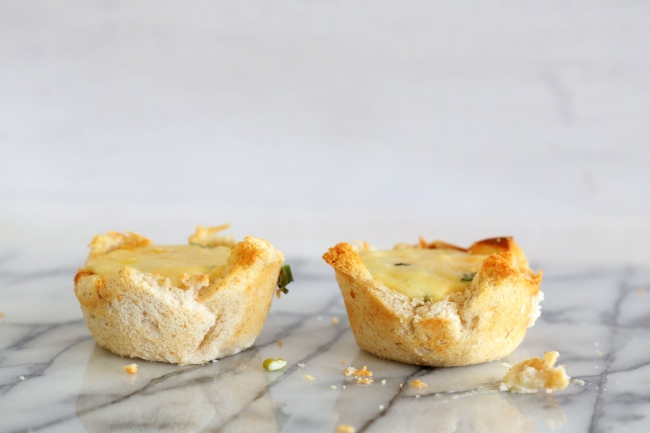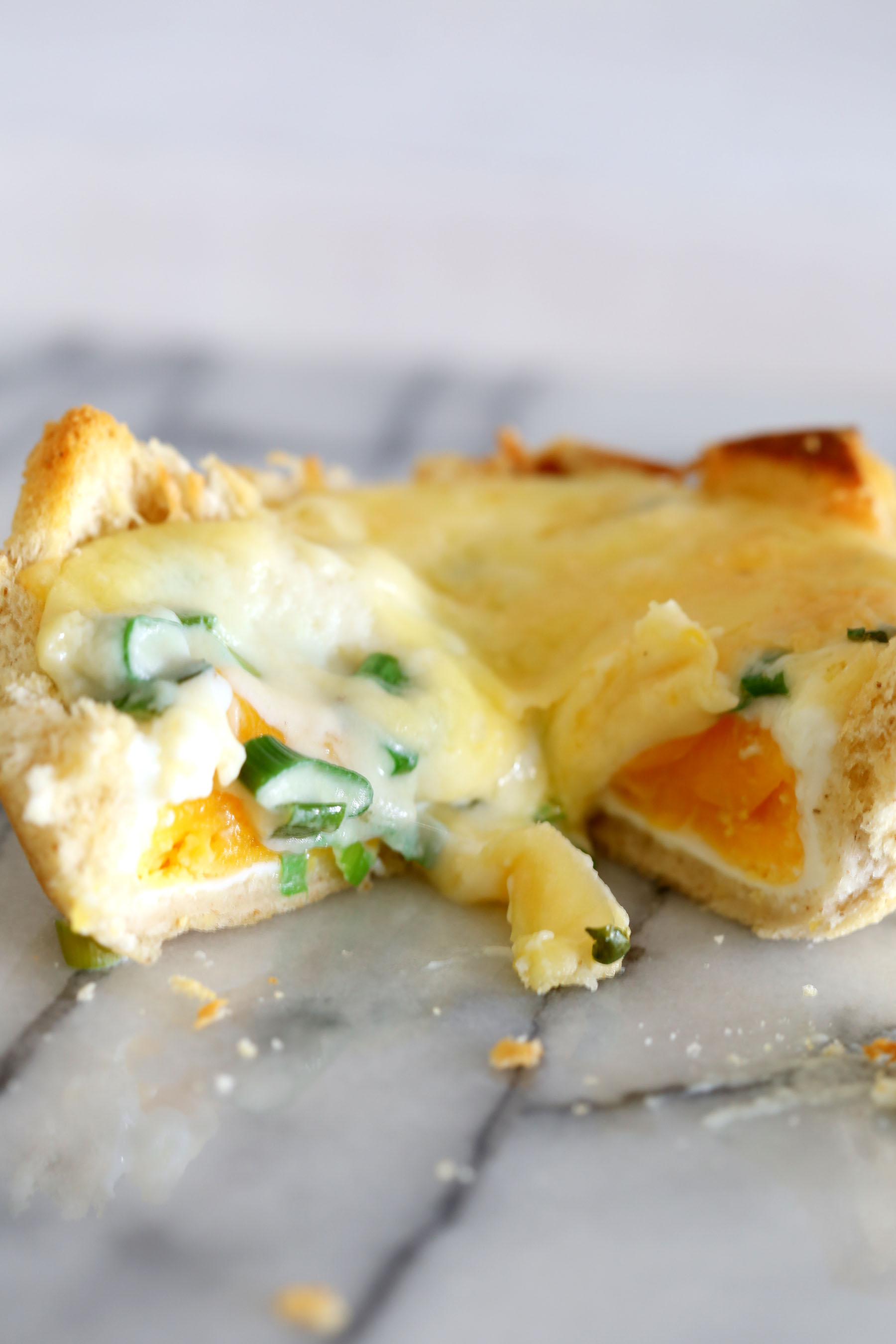 Recipe for Croque Madame Muffins:
4 large slices bread
Unsalted butter, softened at room temp (or margarine)
4 small eggs
1 x 20ml tblspn flour
2/3 cup milk
1/2 tspn Dijon mustard
2 tblspns green onions (green only) and basil, diced finely
Freshly ground sea salt and black pepper
Handful grated cheddar cheese and parmesan (or cheese of your choice)
Preheat oven to 180c for 15 minutes.  Find a Texas sized 6 muffin tin and grease 4 of the tins really well with butter.
Slice off crusts from the bread then roll out each piece with a rolling pin until flat and able to come right up the sides of the muffin tins.  Butter both sides of each piece of bread and place into 4 prepared tins of the muffin tin, pressing in gently to make a tart shape.
Add 20ml tablespoon of butter and the tablespoon of flour to a small saucepan and bring to highish heat, whisking to cook for a minute or so; gradually pour in milk, whisking then quickly add the mustard, whisking and cooking until smooth and thick, for around 3 minutes.  Remove from pan, season well, add the herbs and stir through.
Crack each egg carefully into the bread tarts (if the eggs are too large, separate some of the egg white into a glass or mug first).  Spoon the white sauce over the eggs and sprinkle the cheese over the top.
Bake for 14 minutes (softer egg) or around 16-17 minutes for a firmer egg – this will depend on whether your oven runs hot or cold though.  The filling should be puffed up and light golden brown and the bread crisp.
Sit for a minute in the tin then use a butter knife to slide around the sides and base of the muffins and slip out onto plates to serve straight away.
Serves: 4
Adapted from: Rachel Khoo
Video from: BBC Food