Are we sick of salty caramel things yet?  I hope this particular trend isn't over because this slice is pretty epic; a dialled up version of old fashioned caramel slice to which I added some salted peanuts and a bit of maple.
This is a great recipe for Christmas because you can take it to work or give it to some lovely people as gifts and it's one of those decadent things you don't feel guilty having around the holidays.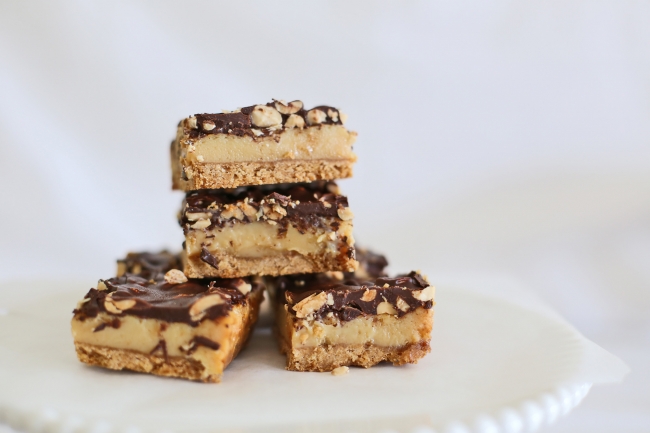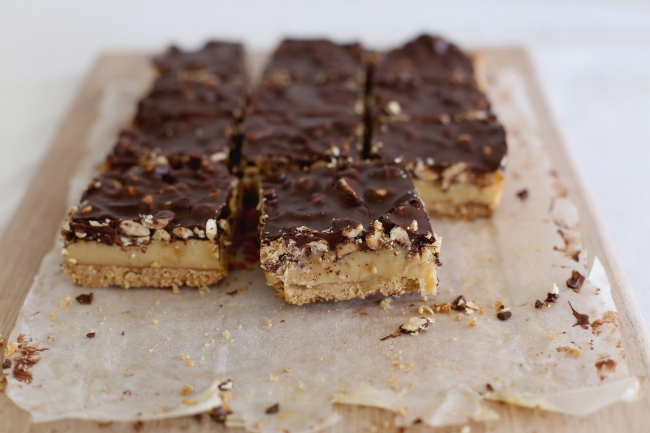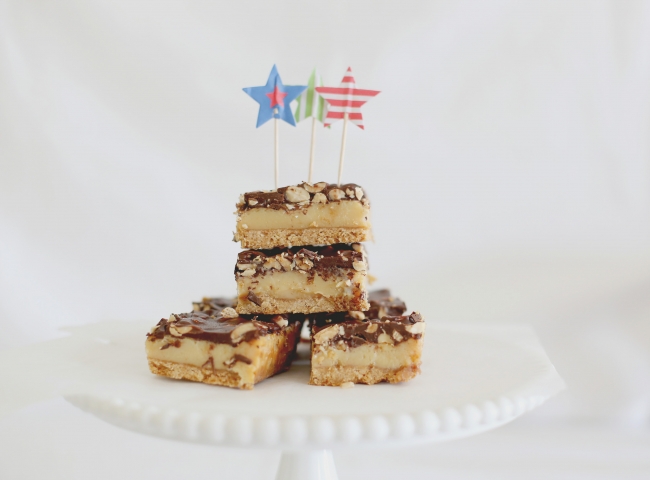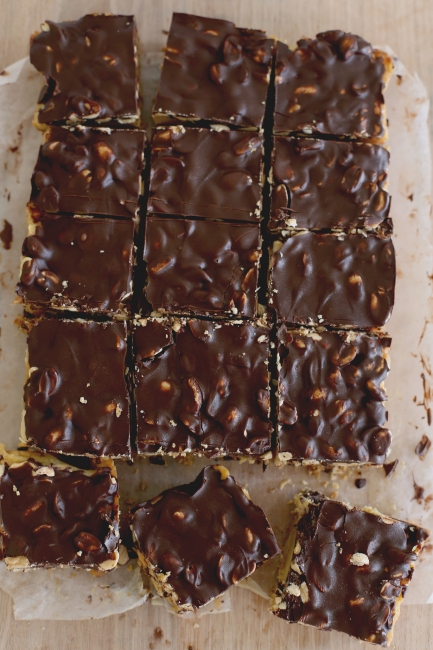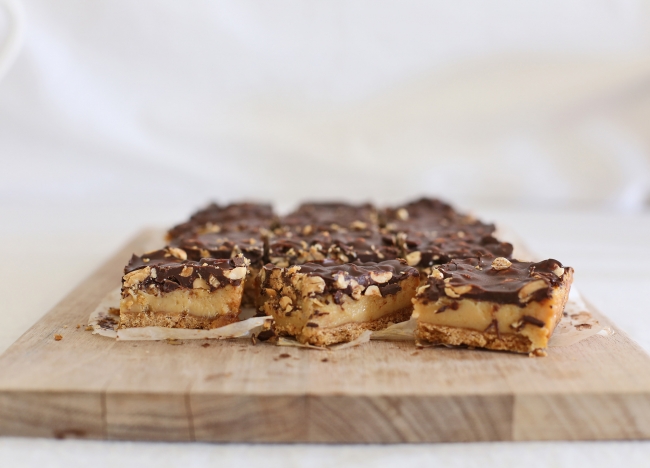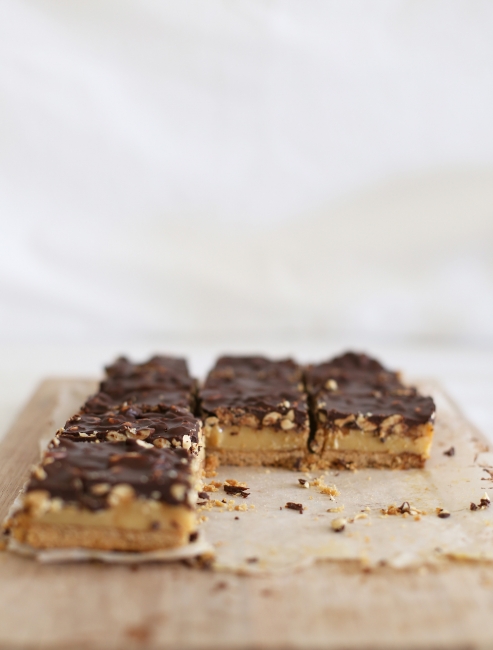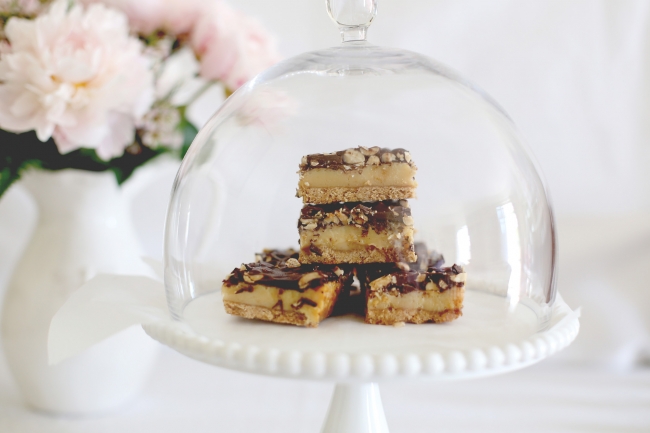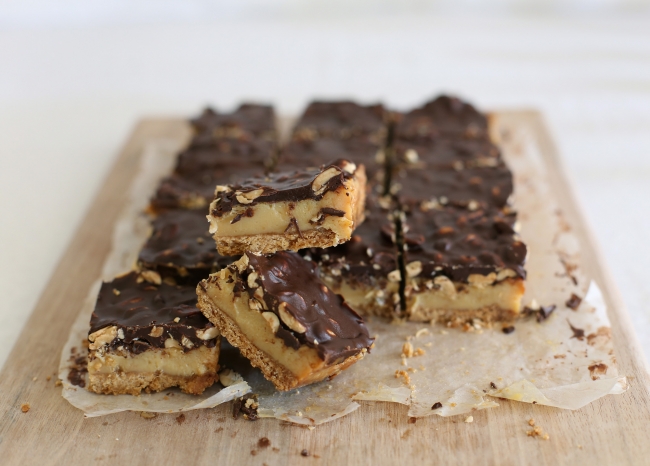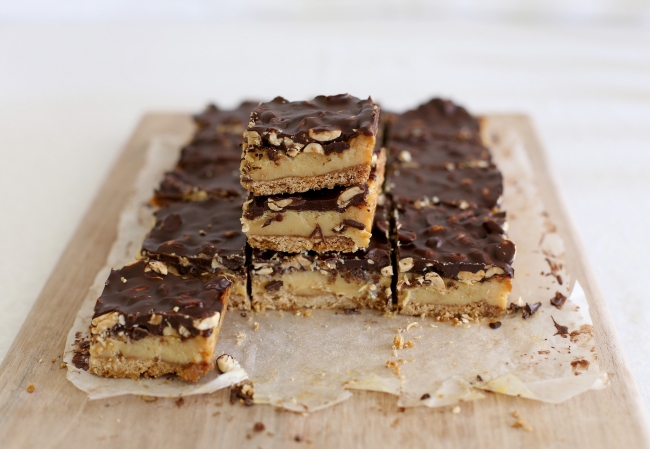 Recipe:
Base:
1 cup plain flour
1/2 tspn mixed spice
1/2 tspn baking powder
1/4 cup desiccated coconut
1/3 cup brown sugar, packed
120g unsalted butter, melted
1/2 tspn vanilla extract
Maple caramel filling:
2 x 395g tins sweetened condensed milk
1 tspn maple essence (or vanilla if that's what you have)
2 x 20ml tblspns maple syrup
100g chilled unsalted butter, cubed
Topping:
1 cup salted, roasted peanuts
220g sweetened dark cooking chocolate, broken up
1 x 15ml tblspn grapeseed oil
Preheat oven to 180°C. Grease rectangular baking tin (mine was 25cm x 15cm) with butter then place 2 pieces of baking paper cross-ways over the base, leaving some to hang over for easier removal later on.
Add flour, spice, baking powder, coconut and sugar into a medium sized bowl and whisk a bit; stir vanilla into melted butter then pour into dry ingredients, using a wooden spoon to stir until combined.  Pour mixture into prepared tin and use your fingers to press firmly and evenly into the base, including the sides and corners.  Bake for 18-20 minutes, or until golden brown.  Reduce oven to 170C.  Set aside to cool a bit before pouring over the caramel.
While base is baking, add condensed milk, essence, maple syrup and butter to a medium, heavy based saucepan and bring to medium/high heat, whisking most of the time for 8-10 minutes, or until mixture becomes smooth and thicker.  Make sure not to boil or burn the mixture – you will need to turn it right down as you go, as it starts to bubble quite a bit.
Allow caramel to sit off the hotplate for a couple of minutes then pour over the base and place back into the oven for a further 18-20 minutes, turning tin around after ten minutes, until you can see bubbles on top of of the caramel.  Remove tin from the oven, place onto a cooling rack and cool to room temperature for an hour or so.
Add chocolate and oil to a heat-proof bowl set over a small pan half filled with gently simmering water; stir continuously with a metal spoon until chocolate melts and mixture comes together smoothly.
Sprinkle peanuts over the caramel layer, pressing in gently then pour chocolate evenly over peanuts, scraping out the remainder with a spatula, ensuring to smooth the chocolate over the peanuts and up to the sides, using a butter knife (it might seem as if there's not enough chocolate but there is).
Chill in pan uncovered for an hour, or until the chocolate topping hardens, then cover with plastic wrap and chill further for a few hours to set completely (I stored mine in the fridge overnight for the next day).
Use a sharp knife (dipped in hot water and wiped dry to make things easier) to slice into squares before serving (as you can see, I still failed to slice neatly, I hope you have better luck!).
Serves: 15 slices
Adapted from: Bakers Corner