Sometimes I prefer fried onion rings to chips, sacrilege I know!  I've never made them though because the take-away ones are pretty good.  With our milk delivery the other day though, we received the quarterly magazine which had a recipe for onion rings in it so I spontaneously thought I'd give it a go and they were surprisingly easy, not only the process but the fact that I had all the ingredients already (I love that!).
Crunchy, spicy and great on their own with dips, this crispy little snack would also be brilliant alongside a home-made burger.
And now that I feel so clever for making these, I might have a go at crumbed calamari one day!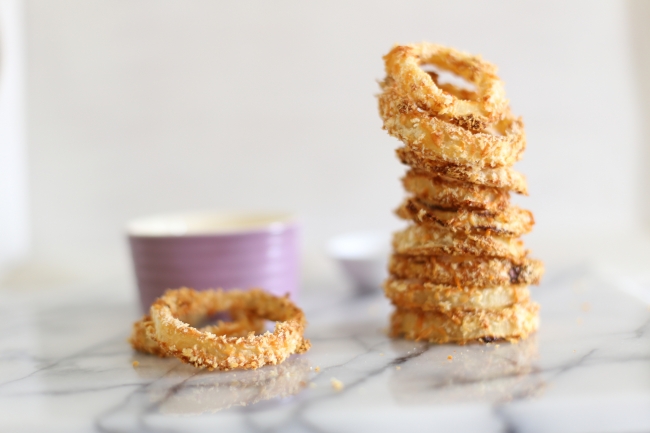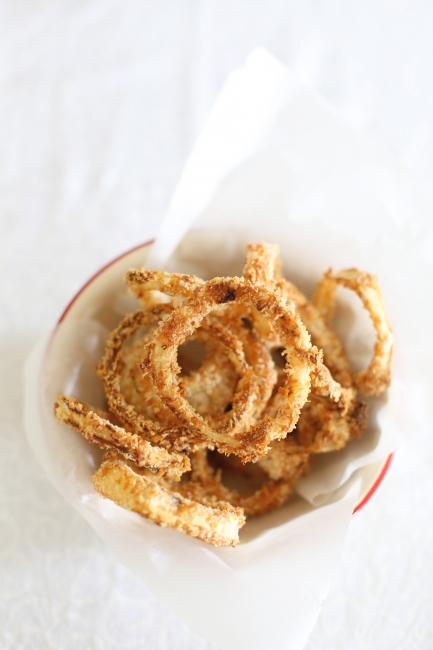 Oven baked crispy onion rings:
1/2 cup plain flour
Small pinch chilli flakes
Freshly ground sea salt & black pepper
2 large eggs
2/3 cup Japanese panko breadcrumbs
2 x 20ml tblspns Parmesan cheese, finely grated
1 large red or brown onion, sliced into 1.5cm rings
Grapeseed oil
Dip:
1/3 cup unsweetened Greek yoghurt
10mls extra virgin olive oil
2 tspns lime juice, sieved
1 tspn finely grated lime zest
Pinch chilli flakes
Freshly ground sea salt and black pepper
Spicy tomato sauce to serve
Preheat oven to 210C.  Set aside 2 flat baking trays and brush with oil.
Place dip ingredients into a medium sized bowl and whisk until combined.  Store in the fridge while you prepare the onion rings.
In a shallow bowl, stir flour, chilli flakes and good amount of seasoning.  In another shallow bowl, whisk eggs and set aside.  In a further bowl, stir breadcrumbs and cheese.
Try to get a routine going with this as it's easier; use your dominant hand (with or without tongs) to lightly coat onion rings in flour mixture, then egg mixture, then breadcrumbs, gently pressing in to ensure the coating sticks.  As you go, place onion rings on prepared pans.
Bake in oven for 25-30 minutes, or until golden brown and crisp – turn pans around after 17 minutes so they brown evenly.  Season well with freshly ground sea salt and black pepper as soon as they're removed from the oven and remove from trays onto a serving dish using an egg flip; serve immediately with yoghurt dip and spicy tomato sauce.
Serves: 2
Adapted from: Aussie Farmers Direct Harvest magazine (Spring 2014 edition)