I'm not quite ready to give up sweet potato even though it's already hot here and turning the oven on is a bit of an effort.
This is a side dish but to be honest, I had a bowl of these for lunch on their own; sweet, caramelised, spicy and with a gorgeous, fragrant crunch from toasted pecans, it was a sort of decadent, dessert-like treat in a way, however is really quite healthy.  This is one of those dishes which is great for Christmas or holiday events; I made a similar dish a few years back as a side for Christmas Day roast chicken and it was really appreciated.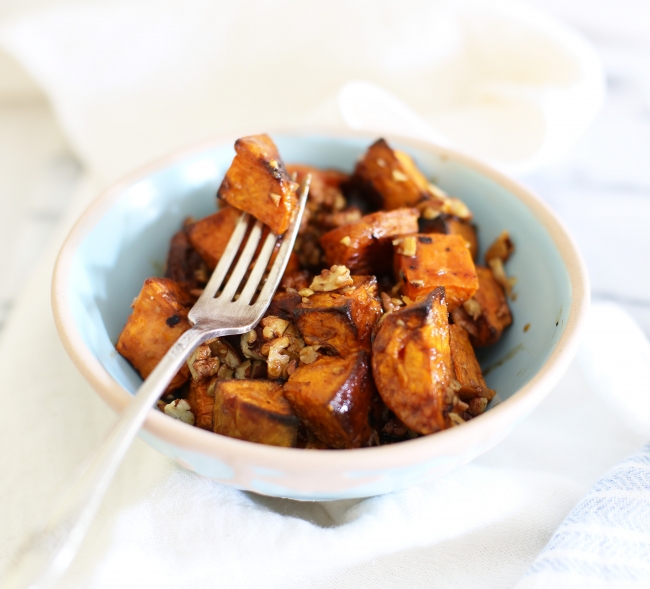 Recipe:
600g sweet potato, peeled and diced into 2-3cm pieces
Grapeseed oil
Pinch chilli flakes
3/4 tspn ground cumin
1/2 tspn ground ginger
Freshly ground sea salt & black pepper
40g pecan halves
Maple dressing:
30mls maple syrup
15mls extra virgin olive oil
5mls balsamic vinegar
Half a medium orange, finely zested
1/2 tspn Dijon mustard
Preheat oven to 200C.  Place baking paper onto flat baking tray.
Scatter over sweet potato and drizzle over 30mls of oil then dust over spices and seasoning.  Use your hands to rub into the sweet potato well then evenly space out on the tray, leaving an empty space for the pecan nuts which will go on at the end.
Roast for around 25 minutes, then turn sweet potato pieces over and rotate tray then continue roasting for another 10 minutes, or until sweet potato is caramelised.  Remove tray from the oven and place pecan nuts in the space left in one layer.  Place back into the oven for 5-7 minutes, or until nuts are fragrant but not browned.
Meanwhile, whisk dressing ingredients in a small bowl until combined.  Chop the nuts coarsely.  Drizzle maple syrup/oil mixture over hot sweet potato then scatter over chopped pecan nuts.
Serve straight away.
Serves: 4 sides