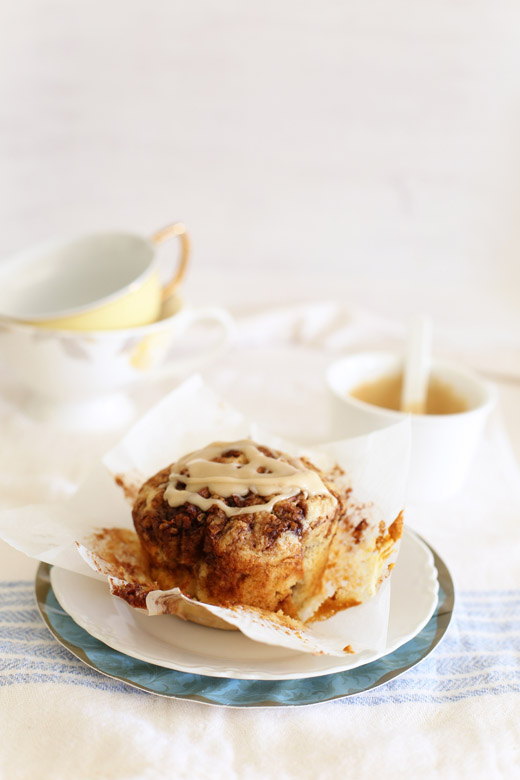 These are exactly like cinnamon rolls except in soft, fluffy cake form.  They really are decadent.  And oh the cream!  It makes for such a gorgeous cake.  And aren't saturated fats good for us now or something?  Hah.
They're at their best warm out of the oven with the icing slightly soft and drizzly, however I froze the remainder and heated them in the microwave for breakfasts and they were still deliciously soft.
As you can imagine, these cakes are ideal with a cup of coffee and I sat out on our deck while I ate one in the morning sun.  Bliss!

Recipe for cinnamon roll mini cakes:
Cake:
2 cups plain flour
1/2 tspn mixed spice
1 x 15ml tblspn baking powder
Pinch salt
3/4 cup raw caster sugar
1 large egg
1 cup heavy cream
1/2 cup buttermilk + 20mls
1 tspn vanilla extract
1 tspn maple essence
Cinnamon swirl:
1/3 cup brown sugar, packed
30g unsalted butter, melted
2 tspns ground cinnamon
50g pecans, toasted and finely diced (optional)
Icing:
1/2 cup icing sugar mixture
1/4 tspn maple essence
1 x 15ml maple syrup
5-10mls milk
Preheat oven to 180C.  Add large cases to a 6 cup Texas (large) sized muffin tin.
Sift flour, spice, baking powder, salt and sugar into a large mixing bowl.
Add egg, cream, buttermilk and extracts to a jug and whisk until smooth.  Add to flour mixture and fold through until just combined.
Stir cinnamon swirl ingredients until combined in a small bowl.
Divide cake batter between muffin tin and scatter over cinnamon swirl evenly between cakes.  Use a butter knife to swirl it right through the cake batter in each muffin cup.
Bake for 25 minutes or until a skewer inserted into the middle of one cake comes out clean.  Cool cakes in tin on cooling rack for 5 minutes then remove them onto the cooling rack.
Mix icing ingredients together in a small bowl until smooth and creamy – add milk gradually until at desired consistency.  Drizzle over the still warm cakes.  Allow to set (if you can!), before serving.
Serves: 6 large
Note: Best served warm from the oven however can be frozen for up to a month, wrapped in plastic wrap, defrosted in the fridge and re-heated on medium heat in the microwave.
Adapted from: Table for Seven via Rumbly Tumbly