While making my usual winter pumpkin soup recently, it occurred to me that with a few tweaks, it would make a lovely, healthy sauce for pasta, so I gave it a go.
Adding nutmeg, sage and a decent amount of full fat coconut cream, this turned pumpkin soup into a lush, creamy and flavoursome sauce which goes equally with simple dried pasta or fresh filled pasta such as Agnolotti or the larger sized ravioli.  I also really enjoyed this with toasted pine nuts scattered over for a bit of toasty crunch to contrast with all that creaminess, but you could also use chopped walnuts or hazelnuts.  A nice hunk of rustic bread would be great to mop up the excess sauce here too.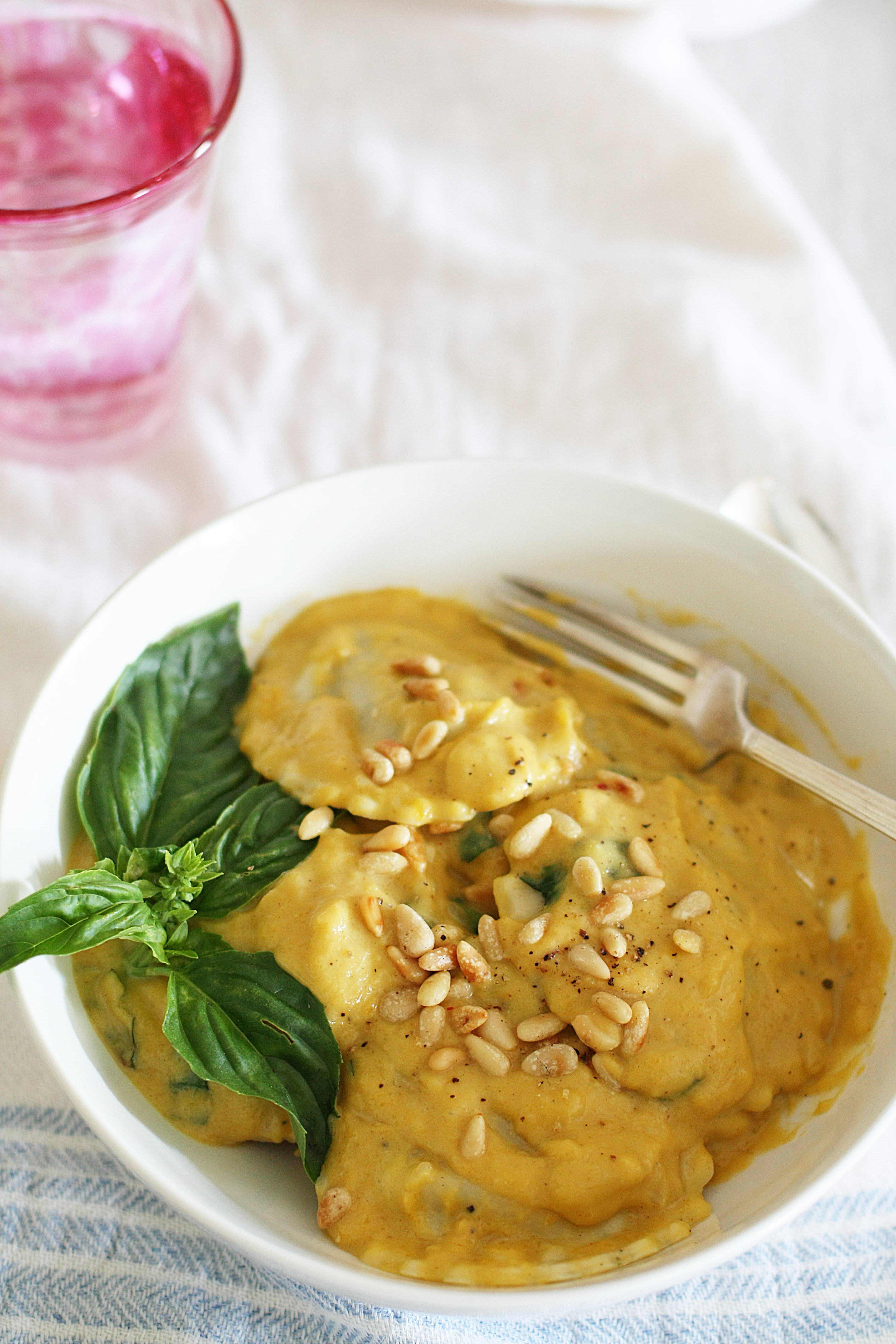 Recipe for pasta with creamy pumpkin sauce:
500g pasta of your choice
1 x 20ml tblspn grapeseed oil
1 medium onion, diced
2 cloves garlic, crushed
Small pinch chilli flakes (not for spiciness, just a bit of heat)
1/2 tspn ground sage leaves
1/8 tspn ground nutmeg
900g Kent pumpkin, peeled and diced
1 cup low sodium vegetable stock, hot (make sure it's a vegan friendly brand)
180mls full fat coconut cream, shaken well
Freshly ground sea salt and black pepper
10 large basil leaves, sliced finely
1/4 cup pine nuts, toasted
Add oil to a large saucepan with onion, garlic, chilli flakes, ground sage and nutmeg.  Slow sauté on lowish heat covered, stirring regularly until onion is transparent.  Turn up heat to high and add pumpkin and hot vegetable stock and bring to boil.  Turn down to medium, season well then place lid on and simmer, stirring occasionally, for 25 minutes or until pumpkin has completely softened and is starting to break down.
If using dried pasta:
Put large saucepan of water onto boil. Once boiling, add a teaspoon of salt then pasta and boil for 10-11 minutes, or until al dente. Drain.
For  fresh filled pasta:
Put large saucepan of water onto boil.  Once boiling, add fresh pasta and boil for 4-5 minutes, or until just tender.  Drain.
Remove saucepan with pumpkin mixture off the hotplate and allow to cool for 5 minutes or so.  Use stick blender to process pumpkin mixture until creamy and smooth (being careful so you don't burn yourself).  Place sauce back onto hotplate over low heat and add coconut cream and more seasoning to taste.  Simmer gently, stirring, until heated through and creamy.  Add in cooked pasta and basil leaves and stir through.
Divide pasta between 4 pasta bowls or plates and scatter pine nuts over the top.
Serves: 4