I've wanted to make this black sticky rice pudding for ages but had trouble sourcing the black glutinous rice in an actual store.  I originally tried making a similar dessert with black rice and although it tasted nice, it wasn't the same, I really feel it needs the glutinous rice for that gloriously sticky texture.
And this dessert or breakfast (I even had leftovers for a quick dinner one night) is gorgeous – darkly rich and sweet, velvety smooth with subtle vanilla and coconut flavours.  You could easily have this on it's own, I mean the purply/dark colour and flavour is enough on it's own to make this an exotic dessert, but the caramelised banana served on the side just made it a bit more special.
FYI,  I ended up buying the black glutinous rice from My Asian Grocer, along with the coconut cream, coconut milk and palm sugar.
In the interests of full disclosure, I used Kara brand coconut cream which is perfect for desserts; as you can see in the photos, it's creamy, thick, snowy white and doesn't separate.  However, it does include an additive called carrageenan which helps give it the creamy, smooth texture (I won't bore any of you/freak you out with the details, just research carrageenan if you want to know more about additives which may have an impact on folks with digestive issues/conditions).  If you have any concerns, it's probably best to use coconut cream which consists of pure coconut.
You could also try whipping your coconut cream instead.  I haven't tried this but have always wanted to because it sounds so rich and decadent and is a really inspired idea.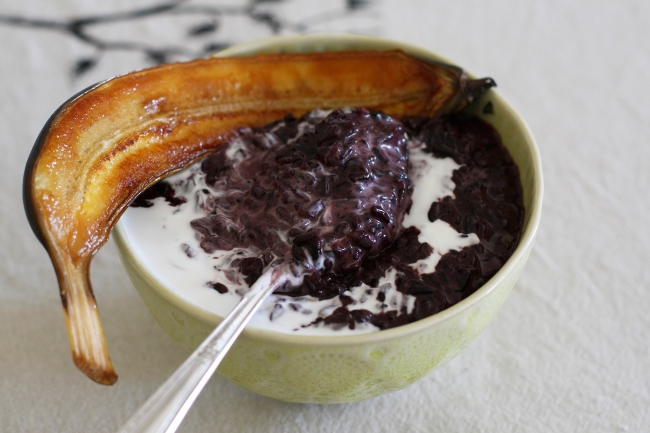 Recipe for black sticky rice pudding with caramelised bananas:
500g black glutinous rice
1 vanilla bean pod, scraped or 2 tspns vanilla bean paste
Sugar syrup:
1 cup palm sugar, grated finely
1 1/4 cups water
Pinch sea salt
Caramelised bananas:
2 heaped tblspns brown sugar (or brown rice syrup)
6 small bananas, halved lengthways
1 x 425ml tin full fat coconut milk, at room temperature
Full fat coconut cream at room temperature, to serve (shake well then stir before using)
Rinse rice well in a sieve under cold running water.  Place in a large, heavy based saucepan with 1 litre of water.  Bring to the boil, reduce the heat to low/medium and simmer gently, covered, for around 35 minutes or until water has absorbed into the rice – try not to lift the lid too much during this time and don't stir.
Remove rice from the hotplate, immediately add vanilla beans to the top of the rice then cover with the lid and set aside to steam for 30-40 minutes until grains are tender.
While the rice is steaming, stir the palm sugar and water in a small saucepan over low heat until the sugar has dissolved.  Increase heat to low/medium then bring to a simmer for 1-2 minutes until liquid reduces a bit and is a slight darker brown, then remove from the heat, stir through sea salt and set aside.  Be sure to stay close by.
Place the saucepan of rice back over medium heat until warm then add the coconut milk and around 2/3 of the palm sugar syrup and stir, continuing to heat through gently.  Turn heat off and place lid on while you make the bananas.
Preheat frypan on high heat.  Sprinkle brown sugar over banana halves, place carefully in the pan sugar side down then sprinkle over more sugar for the top; fry for a few minutes on both sides until sugar has caramelised, using an egg flip to turn them over.
Serve the rice pudding with caramelised bananas, then drizzle with coconut cream and the remainder of the sugar syrup.
Serves: 6-8
Note: In summer you could try mangos or berries instead of the caramelised bananas.
Note 2:  Feel free to use your rice cooker if it's suitable for sticky rice
Rice pudding recipe adapted from: Good Food