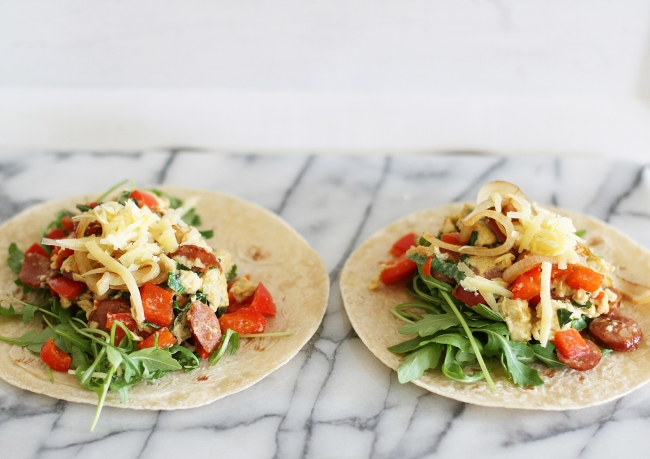 I love scrambled eggs on their own but in a wrap they're even more awesome, like these spicy, flavourful, Mediterranean inspired egg wraps; they're perfect for a Sunday brunch when you have people over.  And if you're not keen on chorizo, you can always leave it out and add sliced vegetarian sausage with a few chilli flakes instead.

Recipe for chorizo caramelised onion egg wrap:
4 eggs
30mls full fat milk
Freshly ground sea salt and black pepper
Handful spring onion (the green part), sliced finely
Small handful l fresh basil, chopped finely
80g chorizo sausage, finely sliced (substitute vegetarian sausage with chilli flakes)
1 red capsicum, diced
1 onion, peeled, halved then sliced
15ml oil
Butter
Handful rocket or baby spinach
2 sour dough wraps
40g cheddar cheese, coarsely grated
Whisk eggs, milk, seasoning and herbs in a jug until combined (don't over-beat).  Place 4 wraps on two plates and scatter over rocket or baby spinach.
Add chorizo sausage and red capsicum to a non-stick medium sized fry pan and sauté over medium heat until chorizo is lightly browned, stirring regularly; remove capsicum and chorizo from pan onto a plate and set aside.  Add oil to pan (carefully!) with onion and reduce heat to low/medium, stirring occasionally, slowly caramelising for 20-25 minutes or so (depending on how dark you prefer it).
Add a knob of butter to a non-stick, medium sized frypan and bring to medium/high heat.  Pour in egg mixture and lower to medium, stirring through until eggs are only just cooked.  Add chorizo and capsicum mixture and stir through.  Immediately remove from heat and place onto prepared wraps – scatter over caramelised onion then grated cheese.
Serves: 2