I suppose this would be called a coffee cake in the US; I love that name actually, coffee cake always brings to mind sunny, friendly mornings with friends.  In this case, it's a morning tea cake, rustic, plump and soft, perfect to freeze if you prefer, to take to work buttered for morning breaks or to have at home when you feel like it.
Despite the raspberries, this is more of a warm, cosy, cool weather inspired treat with spices, brown sugar, walnuts, oats and a crumbly topping.  Sliced warm out of the oven, it's at it's very best.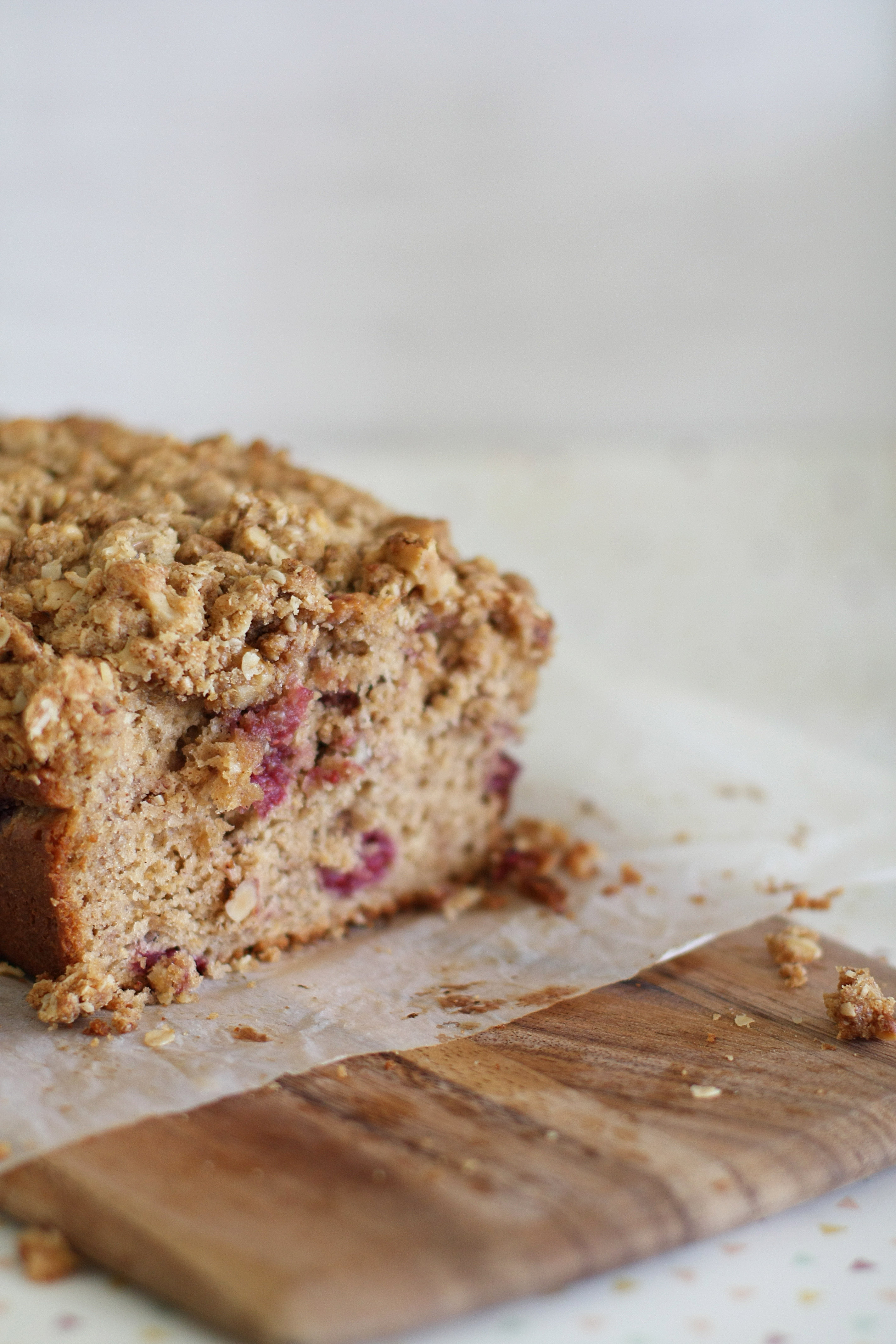 Recipe for raspberry oat crumble loaf cake:
1 1/4 cups white self raising flour
1/2 cup wholemeal plain flour
1/2 tspn mixed spice
1/2 tspn ground cinnamon
1/4 tspn ground nutmeg
1/2 tspn baking powder
1/2 tspn bicarbonate soda
3/4 cup brown sugar, packed
Pinch salt
120g raspberries
80g unsalted butter, melted and cooled (or alternately, use baking margarine if you prefer – leave the salt out in that case)
1 tspn vanilla essence
2 large eggs
1 cup vanilla bean Greek yogurt (or plain if that's all you have)
Oat topping:
1/3 cup brown sugar, packed
1/3 cup wholemeal plain flour
1/3 cup natural oats (not the instant kind)
40g walnuts, chopped coarsely
1/2 tspn ground cinnamon
100g unsalted butter, just out of the fridge
Preheat oven to 180C.  Grease a 20cm loaf tin then add baking paper to the base, making sure some hangs over the sides for easier removal after baking.
Oat topping:
Add all ingredients except the butter to a bowl and stir to combine; cut cold butter into cubes and add to dry ingredients and rub through using fingertips or a pastry cutter – mixture will be damp clumps.
Cake:
Melt butter and cool a bit, if you haven't already.  Sift flours, spices, raising agents, sugar and salt into a medium sized bowl – toss through raspberries.  Add butter, vanilla, eggs and yoghurt to a jug and whisk until combined.  Add wet ingredients to dry ingredients and fold until combined (don't over-beat).  Cake mixture will be stiff.
Spoon cake mixture into prepared loaf tin, smoothing the top using a butter knife then scatter over oat topping and lightly press in with fingertips.  Bake for around 50 minutes (check at 45 minutes), or until cooked through (lightly press the top of the cake to check for firmness and use a skewer to insert into the centre of the cake, if it comes out clean the cake is ready).
Leave in tin for 8 minutes then turn out onto cooling rack.  At it's best eaten warm with butter.
Serves: 8-10
Note: can be frozen; wrap individual slices in plastic wrap and place in freezer bag for up to a month.  Can be defrosted then heated in the microwave for refreshing.