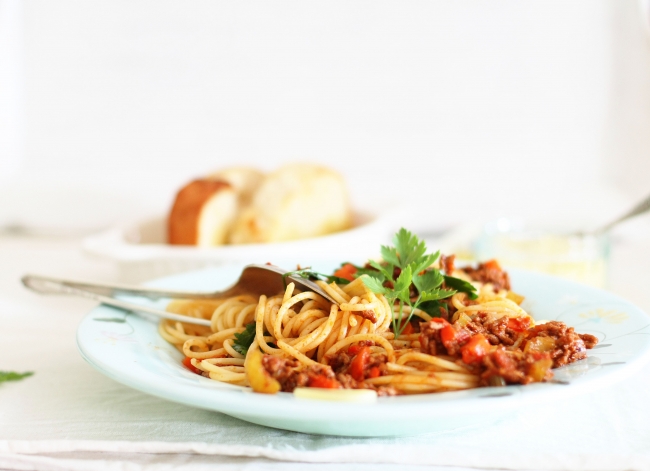 Spag bol is one of those things most of us learn how to make early on, after we've left home, gone to uni or sharing with a bunch of mates.  I haven't made it in ages actually because it seems one of those massively uncool dishes nobody eats anymore.  But it's so yummy!  Why must we only eat trendy things now?  So tedious.
Having made this over many years, I have it down to a fine art now; rich, savoury and a little bit spicy and sweet.  If you need a bit of crunch and freshness on the side, feel free to make a simple salad but I prefer mine with a big slab of garlic sour dough.  Hah!  Take that carb haters.

So I'm bringing spag bol back which will probably remind you of red wine fuelled nights at uni.  Which is awesome.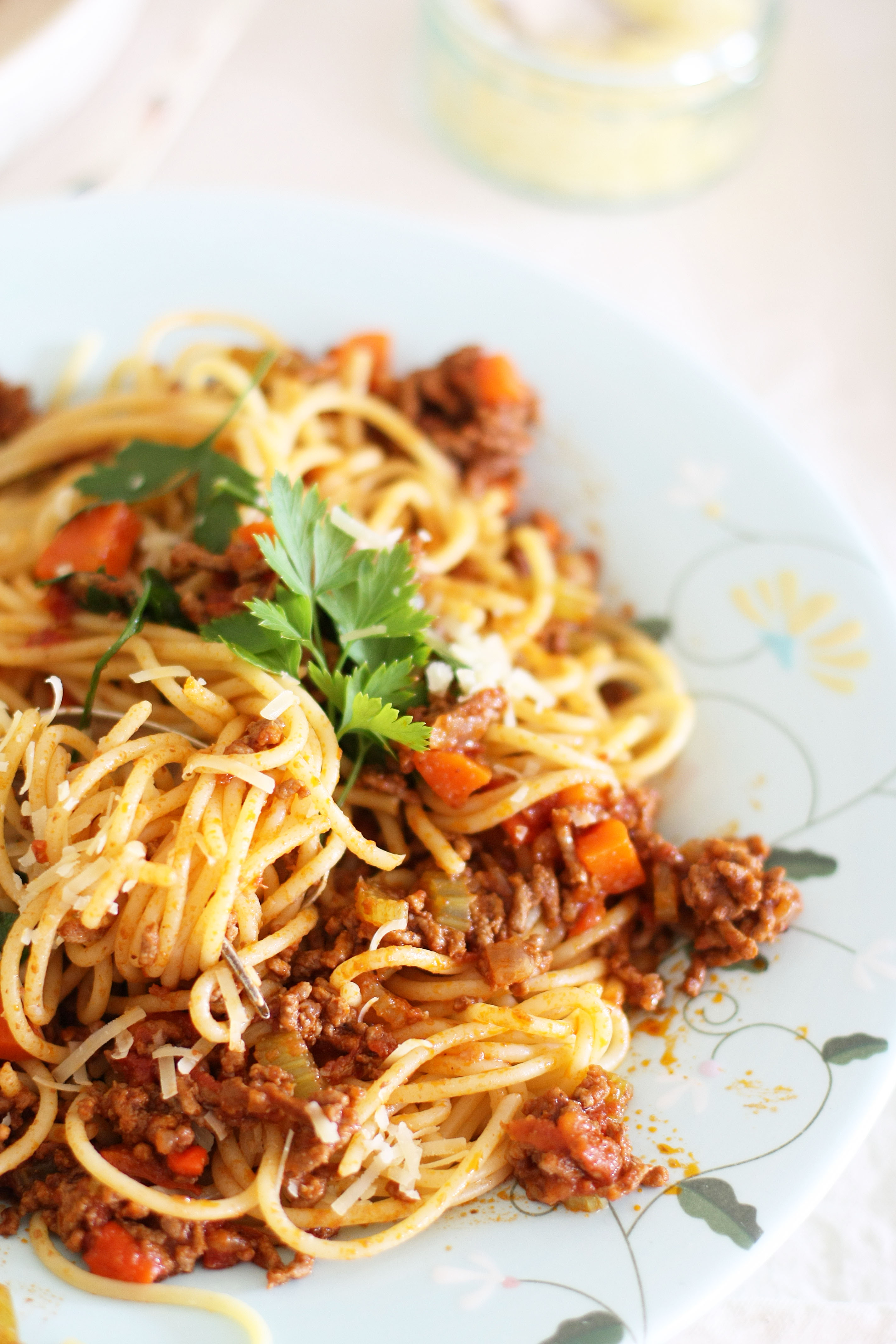 Recipe for spaghetti bolognese:
2 x 20ml tblspns grapeseed or olive oil
1 large red or Spanish onion, diced
2 stalks celery, sliced
1 red capsicum, diced
1 medium carrot, peeled and diced
3 cloves garlic, crushed
Small pinch chilli flakes (not for spiciness, just a bit of heat)
2 tspns grapeseed oil
500g lean, premium minced beef (or turkey)
Freshly ground sea salt and black pepper
40mls balsamic vinegar
400g tin diced tomatoes
1/2 to 3/4 cup of water
2 heaped tblspns low or no sodium tomato paste
1 low sodium beef stock cube
2 large dried bay leaves
Handful fresh continental parsley and basil, chopped
Parmesan cheese, grated
350-400g spaghetti
Add oil, onion, celery, capsicum, carrot, garlic, chilli flakes and seasoning to taste to a large, heavy based saucepan and bring to high heat until you hear sizzling.  Reduce to medium heat and sauté for 8-10 minutes, stirring occasionally until onion is transparent.  I usually sweat the vegies initially for a few minutes with the lid on, then remove the lid and sauté until there's no more liquid.
Remove vegetables from pan with a slotted spoon onto a plate; add 2 tspns of oil to the pan and turn up to high.  Add mince and brown, breaking up with a wooden spoon.  Add balsamic vinegar and simmer for a minute or so then add vegetable mixture, tinned tomatoes, 1/2 cup of water, tomato paste, crumbled stock cube and bay leaves.  Season further to taste.
Bring to a boil then turn down to medium heat to simmer, covered, for 60-70 minutes, stirring occasionally, until rich, thick and fragrant – add remainder of water gradually if it's becoming a bit dry.  Stir through fresh herbs after you take the saucepan off the hotplate and more seasoning if you think it's needed.  Remove bay leaves.
Cook spaghetti in salted, boiling water until al dente, drain well then add sauce to spaghetti and heat over low heat, stirring until combined and hot.
Divide between 4 pasta bowls and grate over Parmesan cheese.  Serve with garlic bread and salad if you like.
Serves: 4
Note: the bolognese sauce can be frozen for a couple of months (I leave out the fresh herbs if freezing), defrosted in the fridge and heated up in a pan on the stove.  This sauce can be also be used for toasted sandwiches, as a topping for baked potatoes and in little spicy puff pastry pockets.