I've heard a lot of negative remarks about the humble little muesli bar lately … too much sugar!  Additives!  You may as well drink a can of coke!  etc etc.  Poor muesli bars, being a child of the 80s I've always liked them and if you buy a brand which is quite healthy and lower in sugar, I don't see the problem.
Anyway, I thought I'd make my own the other day and they tasted wonderful; chewy, not-too-sweet with a bit of crunch and loads of different textures throughout.  I can't say I won't ever buy them again as they're a fairly cheap and cheerful snack, however making them is pretty easy, you can put what you like in them and there's no competition really, home-made tastes superior.  Ant calls them birdseed bars (very droll isn't he?!) as they do look a bit nutty and seedy and such which is exactly what I love about them.
You can always toast the nuts although I didn't; lately I prefer eating raw nuts as they're better for you.  Toasting nuts does bring out their lovely flavours though.  These bars are quite high in calories and carbs (paleo people, look away now) and although on the side of health conscious, they're more suitable for breakfast rather than a snack ….. although you could make them smaller obviously, than I did.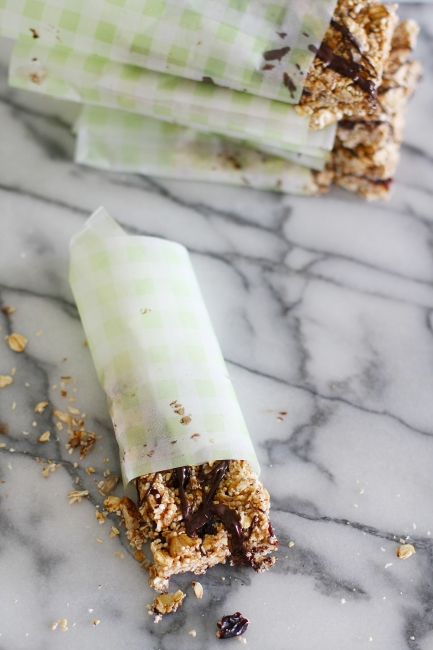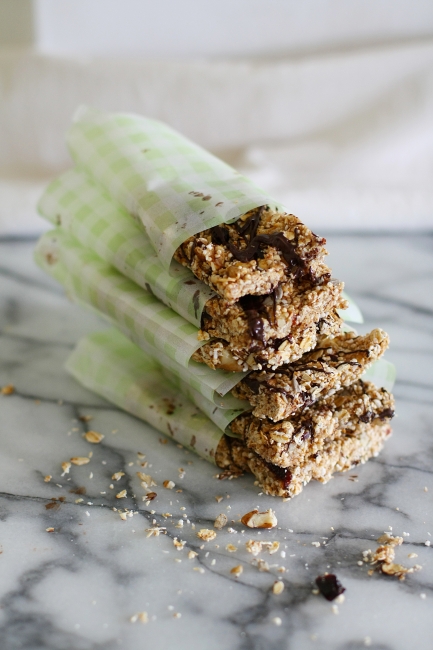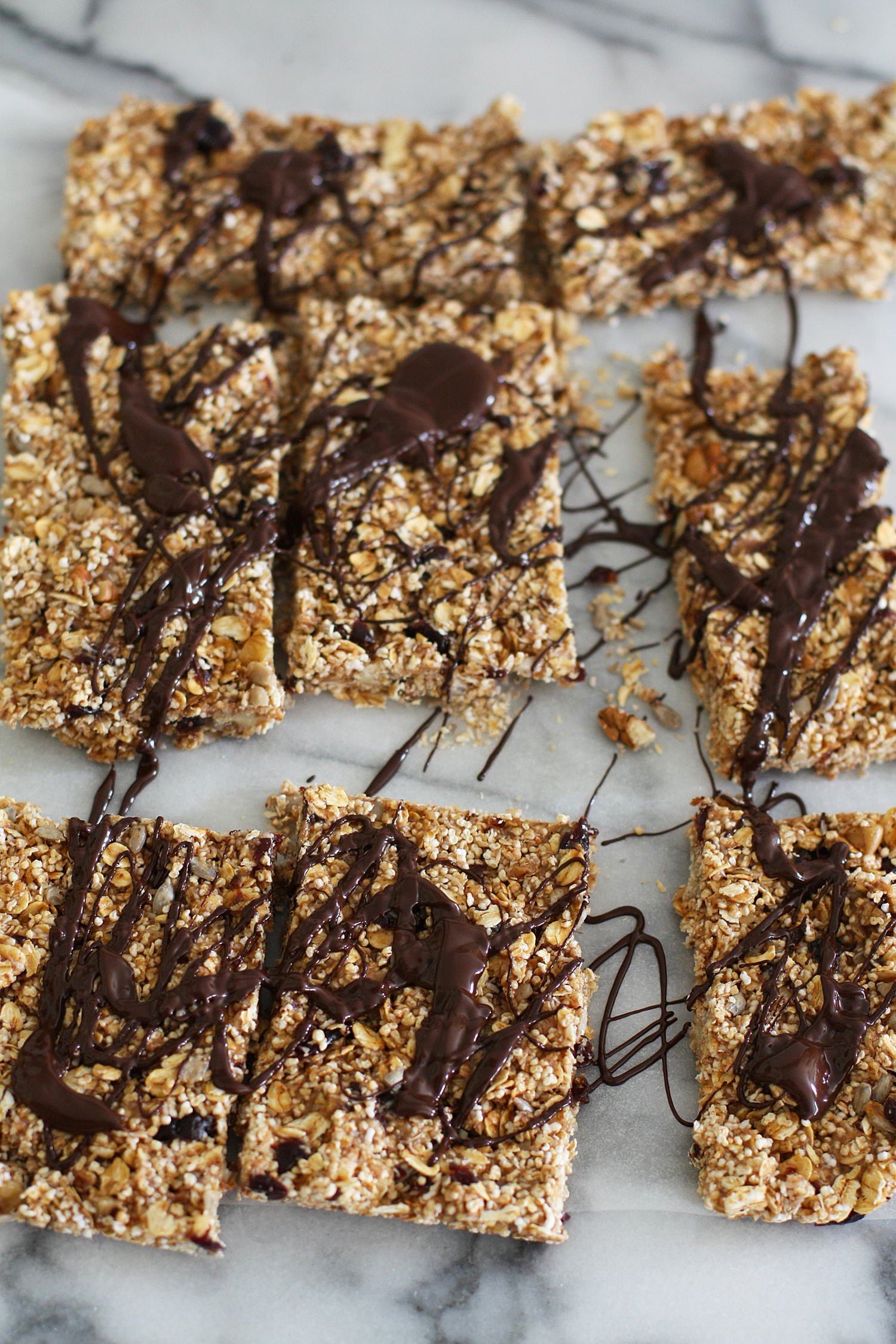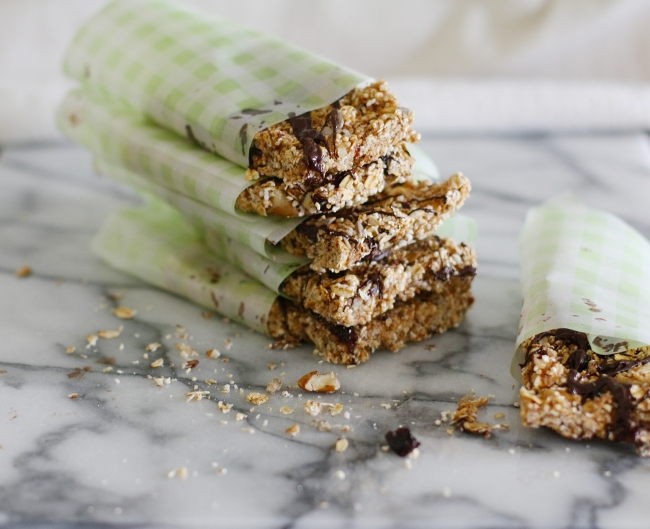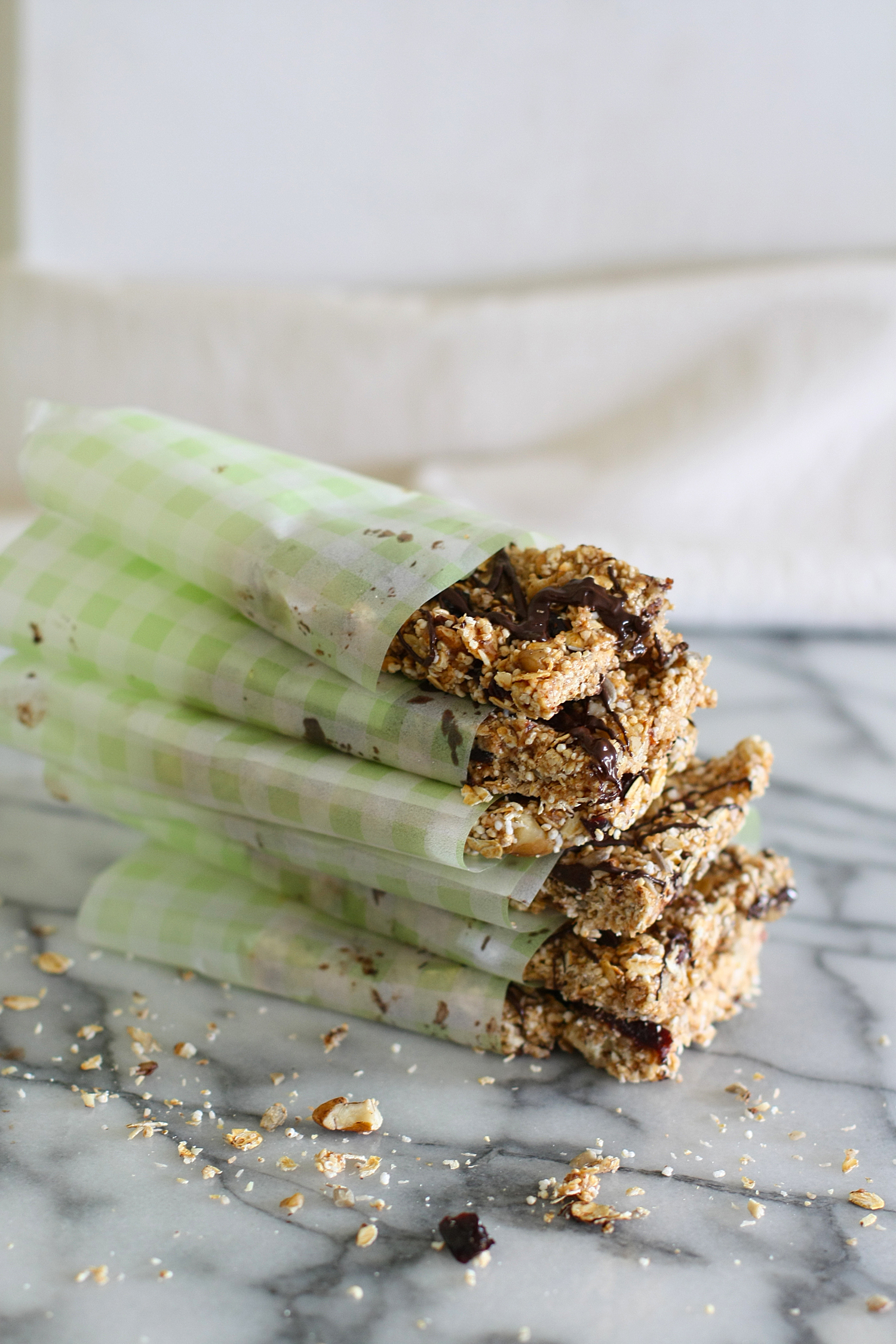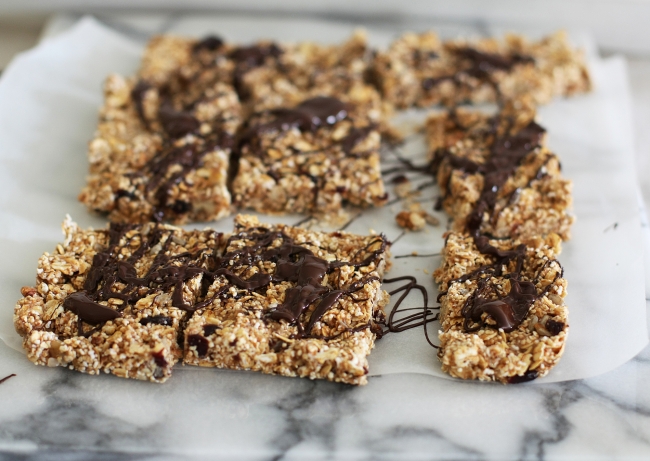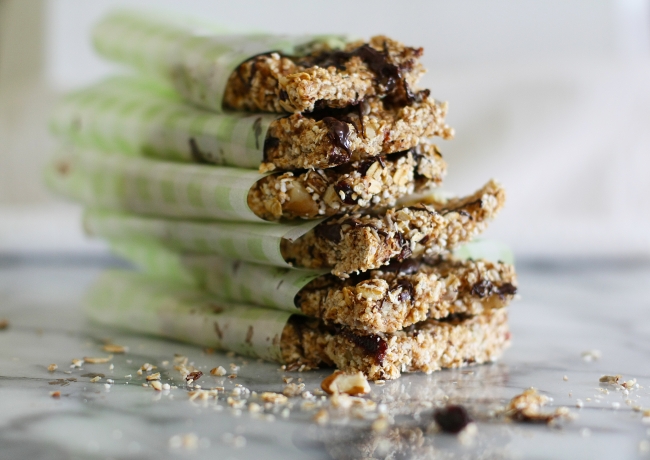 Recipe for muesli bars:
1/4 cup walnuts
1/4 cup pecans
1 cup rolled oats
1 cup brown rice, quinoa or amaranth puffs
1/2 tspn mixed spice
1/4 cup desiccated coconut, organic if you can get it
2 x 20ml tblspns sunflower seeds
1/3 cup dried cherries, finely chopped
Heaped 1/2 cup maple almond butter (if you don't have/can't find this, peanut butter is just fine)
1/2 cup brown rice syrup
1 tspn vanilla extract
Pinch sea salt
40g dairy free dark chocolate
Preheat oven to 180C.  Cover the base of a flat baking tray with baking paper.  Place rolled oats onto the tray in one layer and toast for 15 minutes, or until lightly golden and slightly toasted.
If you wish to toast the pecans and walnuts, add them to the tray around 5 minutes through toasting the oats for around 10 minutes, or until fragrant (try not to burn them!).  Chop nuts finely then set aside.  Set aside oats to cool a bit.
Grease a rectangular baking tin (around 25cm x 15cm) then line base with baking paper – leave some paper over the sides for easier removal after baking.
Combine the nuts, oats, puffs, spice, coconut, sunflower seeds and cherries in a large mixing bowl with a wooden spoon.
Place almond butter and syrup in a small saucepan and heat gently over lowish heat, stirring occasionally for a few minutes or until mixture has melted and is incorporated.  Stir through essence and salt then pour over oat mixture and mix with wooden spoon until everything is coated well – this is important as you want to be able to slice the bars once set and not have them crumble.
Spoon the mixture into the prepared pan and press down lightly to level the top.  Cover with plastic wrap and place in the fridge until set which usually takes an hour or two.
Just before you remove the bars from the fridge, place dark chocolate in a heat-proof bowl over a saucepan full of simmering water.  Stir until melted.  Lift the bars from the pan using the baking paper, place onto a wooden board, then use a sharp knife to slice into rectangles.  Drizzle with dark chocolate and allow to set before serving.
Store in the fridge however is best served at room temperature.
Makes: 9