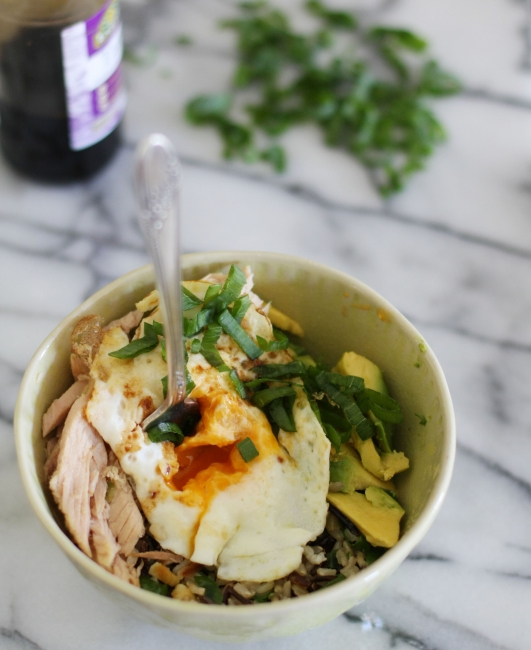 Phew, I needed something to reset my body after a couple of days of eating basically empty (yet delicious) carbs.  This very tasty, healthy rice bowl full of protein and good fat was just the thing!  Nutty brown and wild rice, creamy avocado and fried egg, savoury tuna and some salty Tamari to top it off (and a little bit of fragrant ginger to sweeten the deal).
This little rice bowl is super easy and well worth it if you over-did the Easter eggs a bit.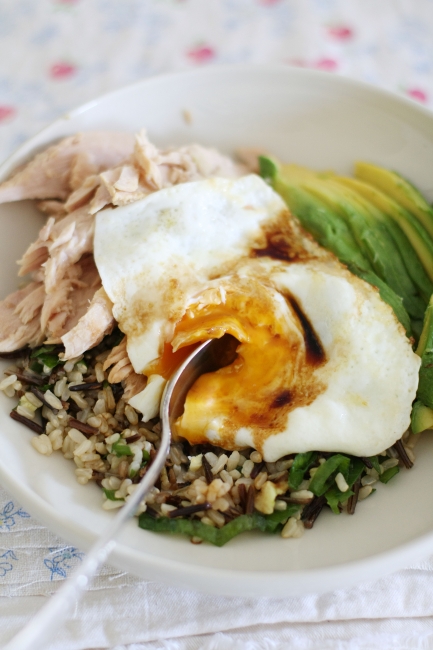 Recipe for brown rice bowl:
1/2 cup brown rice
1/4 cup wild rice
1/3 cup sliced spring (green) onions
1 heaped tspn fresh ginger, grated
1 avocado, peeled and sliced
2 tins of smoked tuna slices in oil, drained with some oil reserved; OR 1 fillet Atlantic salmon, baked and flaked
2 eggs
Unsalted butter
Tamari
Soak brown and wild rice in a medium saucepan filled with water for 10-15 minutes; drain and rinse then fill with fresh water.  Bring to the boil, then simmer for 22-25 minutes until tender.
Just before rice is done, fry the eggs until to your liking.
Drain rice, place into a heat proof bowl, add spring onions, ginger and a tablespoon of the reserved tuna oil and stir to combine.  Divide into 2 bowls and top with tuna, avocado, fried egg and a tablespoon of Tamari.  Top with more spring onions.
Serves: 2
Enjoy!