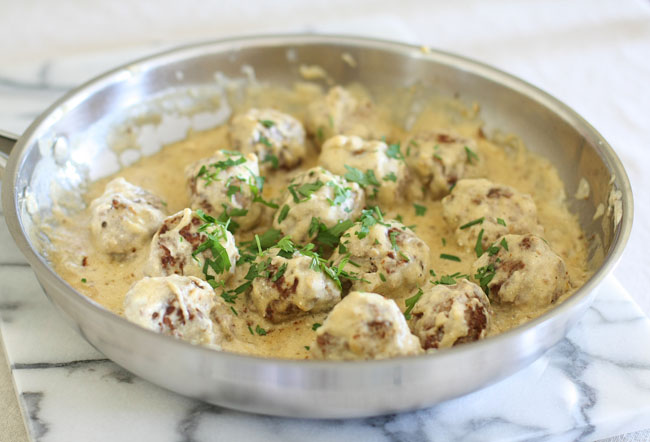 I don't know how Swedish these actually are so if anybody from Sweden is reading, apologies!  They are, though, creamy and flavourful and pretty easy to make however I will say, you need to use a non-stick pan to sauté meatballs (I always forget and they stick like crazy).  You could use any type of mince you like, beef, pork or chicken or even a mixture but I've been getting into delicately flavoured and textured minced turkey lately as it tastes great, is really versatile and healthy.
These meatballs are total comfort food; crispy and browned on the outside with subtly sweet all-spice flavour and a luscious, creamy sauce.  They're great served with basmati rice but even better with fluffy mash – I just so happened to make some recently and it was a perfect pairing.
You could also slice off a decent piece of a baguette and use this as a filling for an epic meatball sandwich if that's your thing.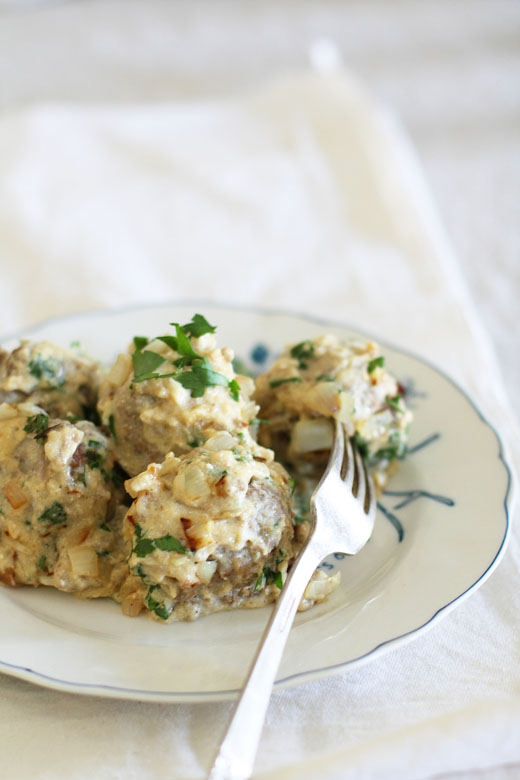 Recipe for Swedish meatballs:
Meatballs:
500g ground turkey
Freshly ground sea salt and black pepper
1/4 tspn ground cinnamon
1/4 tspn ground nutmeg
1/4 tspn ground cloves
1/3 cup spelt breadcrumbs
1 large egg, whisked
Sauce:
1 x 20ml tblspn grapeseed oil
1 small onion, diced
2 cloves garlic, crushed
2 x 20ml tblspns unsalted butter
2 x 15ml tblspns flour
1 low sodium chicken stock cube dissolved in 310mls boiled water (1 1/4 cups)
2 tspns Dijon mustard
Shake of Worcestershire sauce
120mls low fat sour cream
Freshly ground sea salt and black pepper, to taste
Handful flat leaf parsley, chopped finely
Mashed potato or rice to serve
Meatballs:
Preheat oven to 200C.  Place baking paper onto a large, flat baking tray.
Place all ingredients with generous seasoning, except oil, into a glass mixing bowl and gently combine, using very clean hands (or use a spoon if you prefer).  Don't over-mix.  Roll into balls using a heaped kitchen tablespoon (about 2.5cm in diameter).  You should have 16 all up.
Place meatballs onto baking tray with 1cm or so between them – bake for 20-25 minutes, or until browned on the outside and cooked throughout.  Remove meatballs from oven onto a plate.
Sauce:
Add oil to a large, stainless steel pan over medium heat then add onion and garlic and stir until onion is transparent.  Add butter until hot then add flour and stir for a minute or so.  Add 1 cup prepared hot stock, stirring to pick up the bits on the base of the pan.  Allow to reduce a bit, simmering for a minute or two, then add mustard and Worcestershire sauce, stirring to combine then add sour cream and seasoning and simmer until thickened – add the remaining 1/4 cup of stock if you feel it's too thick.  Add in meatballs and simmer for a few minutes to heat through.
Take off pan, add parsley and stir through.
Serves: 4 with sides such as rice, mash and other vegetables or 2 as a main on it's own