I made this lovely fresh pasta dish on a recent weekend.  It only requires a few ingredients which most people would have on hand and the flavours pack a punch; lemony, fragrant garlic, fresh herbs, crunchy walnuts, salty parmesan and a bit of heat.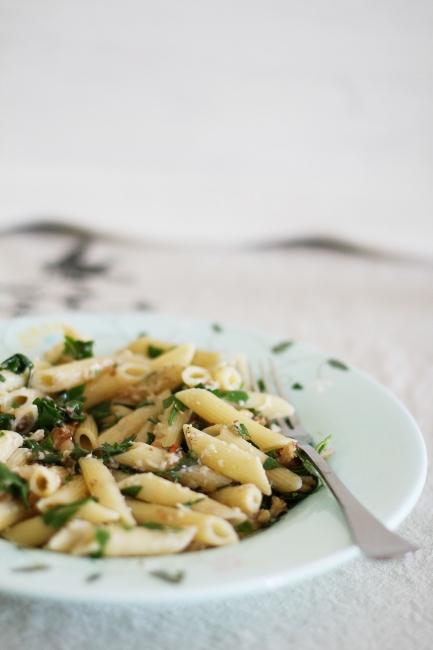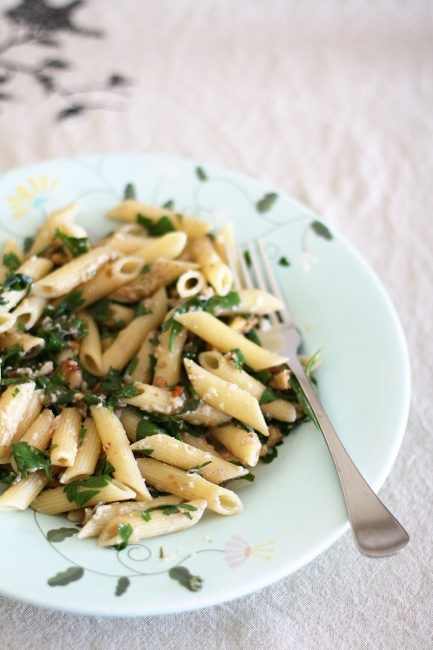 Recipe for walnut, parsley & lemon penne:
200g penne pasta
60mls extra virgin olive oil
2 cloves garlic, crushed
Small pinch chilli flakes
Decent handful Continental parsley, chopped
The green part of a few spring onions, sliced
Lemon juice and zest from 1 lemon
60g Parmesan cheese, grated or shaved
45g walnuts, chopped
Freshly ground sea salt and black pepper
Add penne to large saucepan of boiling, salted water.  Boil on medium heat until al dente, around 10-12 minutes.  Drain, reserving half a cup of the pasta water.
Meanwhile, add oil to a saucepan over low heat, add crushed garlic and chilli flakes and infuse (don't burn the garlic) for a few minutes.  Add pasta, parsley, spring onions, lemon juice and zest and seasoning to the oil and toss gently.  Add a splash of pasta water to moisten.  Divide between plates and add parmesan and walnuts.
Serves: 2 large, 3 small