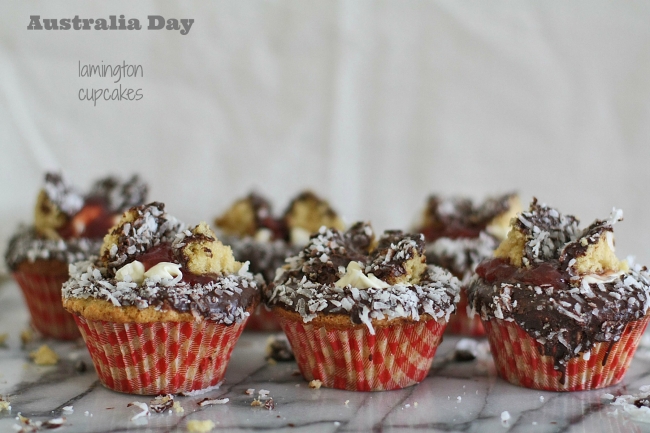 In honour of Australia Day on Sunday, 26th January 2014, I thought I'd make two Australian traditional baked goods in one; lamingtons and butterfly cakes.
These soft little cakes are filled with thick cream and sweet jam and topped with fudgy chocolate icing and flakes of coconut.  I'm not sure if lamingtons are just one of those things that only aussies understand (like vegemite?!) but I really love the combination of chocolate, coconut, jam and cream.  They're even pretty good without the jam and cream if you didn't want to mess about making butterfly wings and spooning jam and cream in.
And these are only a small batch of 6 which is great if you don't need want to make a large amount.
Recipe for lamington butterfly cakes:
3/4 cup self raising flour
1/4 cup (62g) unsalted butter, softened at room temperature
1/2 cup raw caster sugar
1 tspn vanilla extract
1 large egg, at room temperature
50mls milk
150mls Pauls Dollop Cream
Good strawberry jam
3/4 cup icing sugar, sifted
2 x 15ml tblspns baking cocoa powder, sifted
20mls milk
5g unsalted butter, softened at room temperature
1/2 cup coconut flakes
Preheat oven to 175°C.  Line 6 regular sized cupcake or muffin tins with cupcake liners.  Sift flour into a medium sized bowl.
In a mixing bowl, use an electric beater on medium speed to beat the butter and sugar, for 3-5 minutes, or until light and fluffy; beat in vanilla and egg, just until combined on low speed then use a wooden spoon or spatula to alternately fold through flour mixture and milk in 4 parts until combined well.
Bake for 15-20 minutes, or until light golden brown and a skewer inserted in the middle of one comes out clean.  Cool in tin for 5 minutes then move cupcakes to a rack to cool completely.
Icing:
Place all ingredients except the coconut into a mixing bowl and beat with a wooden spoon until thick, smooth and of drizzling consistency – add a tiny bit more milk if needed.  Scatter the coconut onto a plate or shallow bowl.  Take each cupcake and move top gently through the icing then press gently into the coconut then place back on the rack.  Allow icing to set completely.
Use a sharp paring knife to slice a round dome out of the top of each cupcake and set aside.  Spoon in cream then jam on top of the cupcakes in the space left.  Cut the tops of the cupcakes in half then place on top of the jam and cream in a butterfly shape.  This will get messy, so just go with it.
Best served straight away although cupcakes can be iced and topped with coconut a day in advance and stored in an airtight container at cool room temperature for a day or so until ready to be sliced and filled.
Makes: 6