I've always loved the salty flavour and lightness of miso soup, in fact, Japanese food in general is a cuisine I really enjoy for the taste and health benefits.  When I was younger, at uni and a bit broke, I'd just have miso soup on it's own, sort of like a really healthy cup-a-soup, but over the years I've started adding different vegies and flavours to make it interesting.  Any light seasonal vegie would be fine here but the carrots and zucchinis work really well because I was able to slice them super finely with the mandoline.
And I don't usually do this but I worked out that this tasty, fragrant soup full of fresh, crisp and spicy things is only 250 calories, low in fat and high in fibre …. ahem, I may have gained a few kgs over Christmas #gloomyface, so I think I'll be making this for lunches for the next few weeks.
Oh and you could always add some diced tofu but I've never been able to get into that despite my love for vegetarian/ vegan food.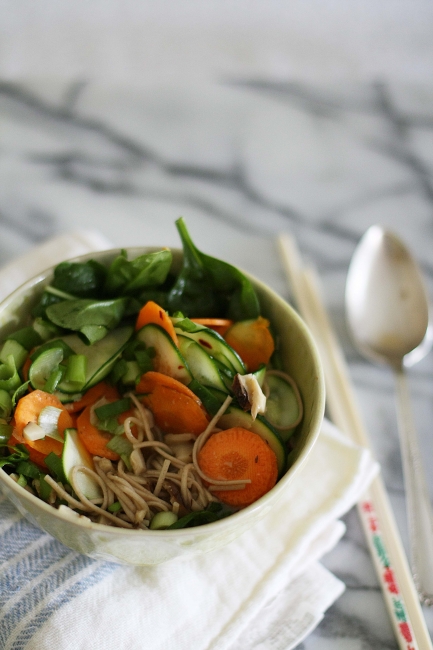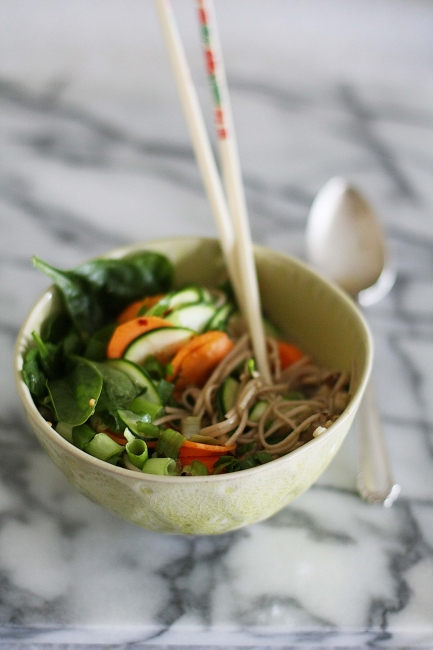 Recipe for miso vegetable soup with ginger and chilli:
40g dried, pre-sliced shiitake mushrooms
120g soba noodles
20mls grapeseed or macadamia nut oil
4 tspns fresh ginger, diced finely or grated
2 cloves garlic, crushed
1 decent pinch chilli flakes (or to taste if you don't like things too hot)
2 carrots
2 zucchinis
4 x 15ml tblspns white miso paste (make sure it's vegetarian/vegan friendly without bonito)
6 spring onions, sliced (the white and green parts)
100g baby spinach
Set aside 4 bowls.
Place shiitake mushrooms into a heatproof bowl.  Cover with 1 litre + 200mls of just boiled water and cover bowl with plastic wrap.  Soak for 30 minutes.
Meanwhile, peel carrots then use a mandoline to finely slice both the zucchinis and carrots (if you don't have a mandoline, just use a sharp knife to slice as finely as possible).  Add oil to medium sized saucepan over medium heat then add ginger, garlic, chilli flakes, carrot and zucchini.  Sauté slowly, covered, for a few minutes, stirring regularly until garlic is transparent yet the zucchini and carrot are still crisp.  Remove vegetables from the saucepan onto a plate and set aside.
At the end of soaking time for the mushrooms, place a sieve over the saucepan and drain the mushrooms, reserving the mushroom water into the saucepan.
Finely chop the drained shiitake mushrooms and set aside.
Add a 15ml tablespoon of miso paste and chopped shiitake mushrooms to each bowl.
Bring mushroom water to the boil in the saucepan and place in soba noodles and simmer on medium heat for 3 minutes, or until tender.
Pour the soup and noodles evenly over the miso paste and shiitake mushrooms in each bowl and whisk until the miso paste has dissolved.  Add the vegetables, spring onions and baby spinach to each bowl and immerse in the liquid so the spinach wilts.
Serve straight away.
Serves: 4 light meals @ 250 calories each