Now I have to warn you, this post is chock-full of mushrooms so if you're not into them, you should probably look away (it's also full of cheese but hey, most people like that).  I understand that mushies are one of those polarising vegetables that you either love or hate and I myself have only really learned to appreciate them in the past few years.  These days, I eat them several days a week including sautéed mushrooms with eggs for breakfast to shiitake mushrooms in my miso soup for lunch or a mushroom omelet for dinner.  Endless possibilities.
I don't make lasagne that often; There're often too many pots and pans and mine always seem to fall apart a bit after slicing (I think I over-fill mine a bit).  Still, I like a decent vegie lasagne and love that mushrooms have a robust texture and flavour which replaces meat very easily.  Also, they're super healthy and most of us don't eat enough of them.
I've had my eye on this recipe by Ina Garten for a while and set aside an hour or so on a Sunday to put it together (that included washing up, the depressing part of cooking).  This creamy, lush dish packed full of substantial and meaty mushrooms went really well with a light salad on the side and some garlic bread.  Not a diet dish sure, but a great substitute for your usual carnivore Sunday lunch.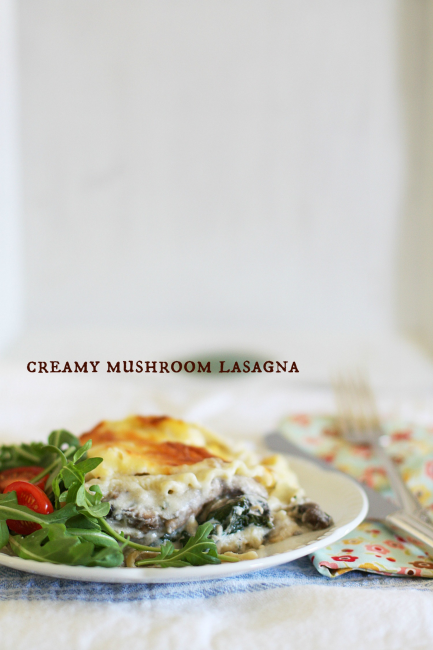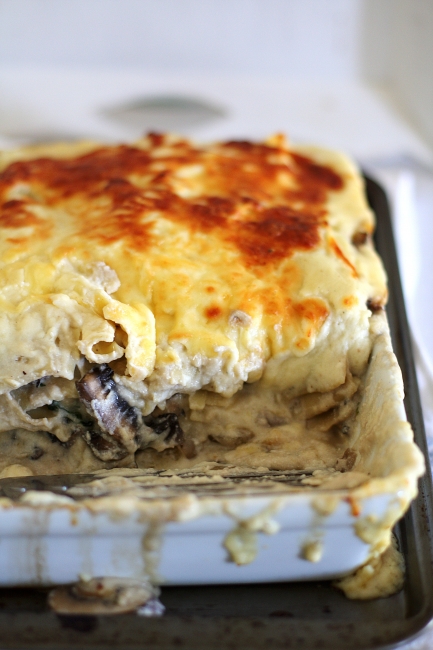 Recipe for cheesy mushroom lasagne:
Béchamel sauce:
1/2 cup butter or cooking margarine
1/2 cup plain flour
4 cups milk
Pinch nutmeg
2 dried bay leaves
Freshly ground sea salt and black pepper
40g finely grated Parmesan cheese
Filling:
20mls grapeseed oil
Butter or cooking margarine
1 heaped tblspn thyme, finely chopped
1 large onion, diced
1 large clove garlic, crushed
800g mixed mushrooms (I used Portabella and Swiss Browns)
Freshly ground sea salt and black pepper
8 rectangular dried lasagne sheets
Oil
Sea salt
500g smooth ricotta cheese
Handful fresh basil leaves
Decent handful grated Parmesan, cheddar and mozzarella cheeses
Place large rectangular ceramic baking dish on a large baking pan.  Remove stems from Portabella mushrooms, then slice all the mushrooms coarsely and set aside.
Put water on to boil in a very large saucepan.  Scatter in a teaspoon of sea salt once boiling, then add in a dash of oil and the lasagne sheets.  Simmer for around 8-9 minutes or until just tender.  Drain in a large colander.
Preheat oven to 180C.
Place butter in a medium saucepan on high and melt down then add the flour and cook for a minute or two, stirring.  Gradually whisk in milk until mixture is smooth then add nutmeg, bay leaves and seasoning, stirring to combine.  Continue simmering on just under high heat, stirring continuously until mixture has thickened.  Turn off hotplate, add Parmesan and stir through until combined well.  Remove bay leaves and set aside with the lid on.
Add 20mls of oil to a large saucepan and add the onion, garlic and thyme and sauté on low/medium heat with the lid on, stirring occasionally, until onion has softened.  Increase heat to high/medium and cook down mushrooms in 3 batches, just until tender, adding a tblspn of butter between each batch.  Place vegetables in a large bowl, season well and stir to combine.
Place a couple of large spoonfuls of béchamel sauce to the base of the lasagne dish.  Place over 2 lasagne sheets.  Spoon over a third of the ricotta, then use a slotted spoon to spoon over a third of the vegetable mixture (there'll be a bit of water on the bottom of the pan), more béchamel sauce, seasoning and some basil leaves; repeat procedure another 2 times, leaving most of the béchamel sauce for the top.  Pour over the remainder of the béchamel sauce then sprinkle over the grated cheese.
Bake in preheated oven for 25-30 minutes or until golden brown and bubbling.  Allow to sit for 10 minutes before serving.
Serves: 6
Adapted from: Ina Garten, Food Network