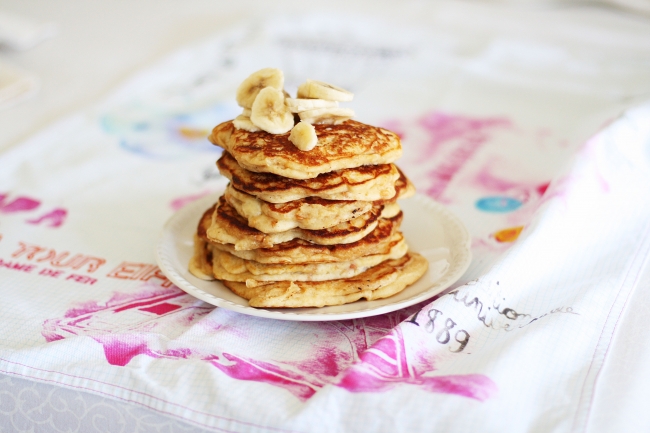 My latest flavour pancake uses a classic combo of peanut butter and banana.  These are quite high, fluffy pancakes with a lovely peanut butter taste and chunks of banana rather than it being mashed.
Oh and if you make too many (can you though?  Can you ever make too many pancakes?), they can always be stored by wrapping in plastic wrap and keeping in the fridge for up to a few days, then reheated in the microwave for a quick but very pleasing breakfast.
Recipe for peanut butter and banana pancakes:
2 cups self raising flour
1/2 tspn mixed spice
1 tspn baking powder
4 x 20ml tblspns raw caster sugar
1 cup crunchy peanut butter, softened at room temperature
3 cups buttermilk
2 large eggs
1 tspn vanilla or maple extract
2 medium sized bananas, diced small
Sliced banana and golden syrup or maple syrup to serve
Sift flour, mixed spice, baking powder and sugar into a large mixing bowl.  In a separate jug or container, whisk peanut butter, buttermilk, egg and extract until combined.  Add wet ingredients and diced banana to the dry ingredients and gently fold through until just combined (don't over-beat).  Allow to sit for 5-10 minutes.
Preheat skillet or non-stick pan with a pat of butter on high heat.  Add 1/3 cups of pancake batter to pan and cook until small bubbles appear on the surface (1-2 minutes) then flip over for another 2 minutes.  I usually cook 2 pancakes at a time but you can cook these in a smaller pan one at a time if you make a smaller batch.  Continue with the remainder of the pancake batter, adding butter between each batch and turning down hotplate as needed to prevent burning.  Store pancakes on plates stacked on top of each other to keep warm or hand them out as you keep cooking.
Serve with sliced banana and golden syrup.
Makes: 16 medium sized pancakes