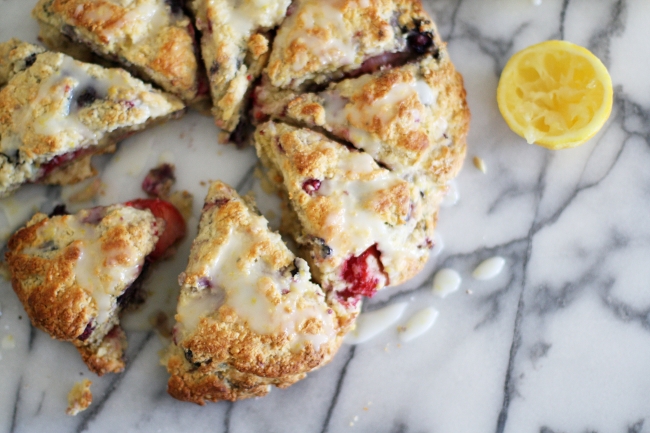 A while back I made scones using cream which worked out really well and yesterday, a breezy, sunny Saturday morning which was marred only slightly by having to vote in our federal election, I thought I'd use some leftover Greek yoghurt to make some scones.  Happily it had the same effect as the cream did; soft and tender on the inside with crunchy tops and I added mixed berries and lemon drizzle for a spring flavour.
I used to be terrible at making scones, they'd turn out like hard little lumpy things!  I've worked out quite recently though, that the trick is not to handle the dough for very long, to add raising agents to the flour and use a rich liquid like cream, yoghurt or buttermilk.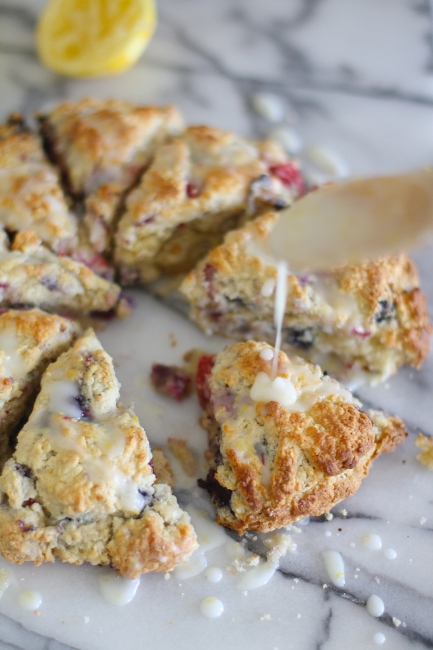 Recipe for lemon berry scones:
2 cups self raising flour
1/2 tspn bicarbonate of soda
1/2 tspn baking powder
1 tspn lemon zest, finely grated
1/4 tspn salt
1/4 cup raw caster sugar
80g chilled unsalted butter, cubed
1 cup Greek yoghurt
Milk for extra moisture
1 heaped cup mixed berries
Milk, for brushing
Icing:
3/4 cup icing sugar, sifted
30mls lemon juice
1 tspn lemon zest
Preheat oven to 190C.  Line a flat baking pan with baking paper and set aside.
Add flour, raising agents, salt, sugar and lemon zest to a large glass or ceramic bowl.  Add the butter and use your (clean) fingertips to rub it into the flour until the butter is incorporated but with small pieces still throughout.  Stir through the berries then add the yoghurt and fold through gently using a metal spoon – add a splash of milk if mixture is too dry.  Do not over-mix.
Form the mixture into a ball by kneading gently and place onto a flat, clean, lightly floured surface.  Pat into a round of around 5cm thick.  Slice into triangles and place onto the prepared baking pan, putting the triangles back into the round shape.  Brush the tops with extra milk and bake for around 20-25 minutes or until light golden brown on the top and cooked through.
Transfer scones to a wire rack to cool.  Once completely cool, ice tops with lemon drizzle.
Meanwhile, make the icing by mixing the ingredients briskly until smooth and of drizzling consistency.
Makes: 8