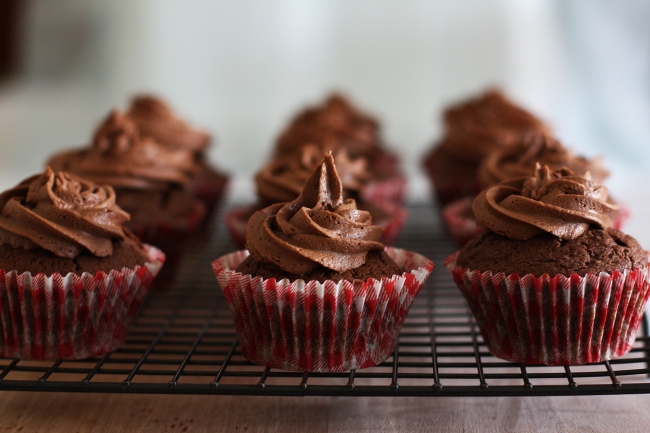 It seemed like a chocolate day so I made some chocolate cupcakes for absolutely no reason at all.  Is there anything better than biting into a soft, squidgy cupcake and getting icing all over your face?  I don't think so!  The batter in this recipe is very thick but it somehow results in a soft crumbed, tender, chocolaty cake and topped with the fudgy icing, these were lovely with a cup of coffee.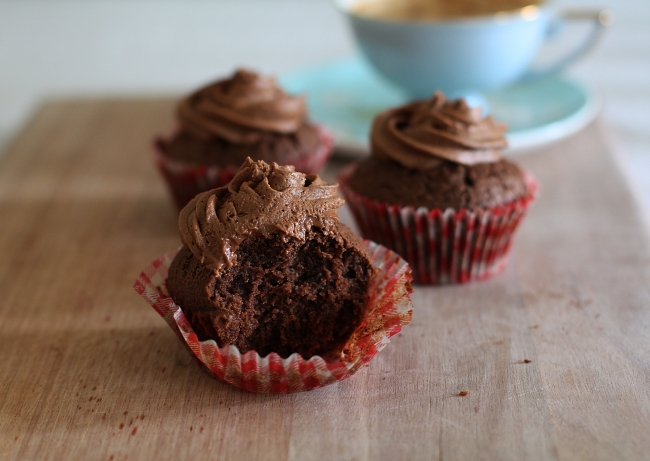 Recipe:
1 3/4 cups cake flour *
1/3 cup good cocoa powder
1 1/2 tspns baking powder
1/4 tspn bicarbonate of soda
1/4 tspn fine sea salt
175g unsalted butter, softened at room temp
1/2 cup raw caster sugar
1/2 cup brown sugar, packed
1 tspn vanilla extract
1/2 tspn instant coffee granules dissolved in 1 tspn of boiling water, cooled
2 large eggs
150mls sour cream
1/4 cup of milk
Fudge icing:
100g dark chocolate, chopped
40g unsalted butter, softened
1/2 tspn vanilla extract
1 1/2 cups icing sugar
Splash milk
Preheat oven to 180C.  Place cupcake liners into a 12 cup muffin or cupcake pan.
Sift flour, cocoa and raising agents into a bowl.  Add salt and whisk until combined.  Whisk sour cream and milk in jug and set aside.
In another large mixing bowl beat butter and sugars on medium speed using an electric mixer for 3-5 minutes, or until light and fluffy.  Add vanilla, cooled coffee and eggs, one at a time, beating on low speed between each one until combined.  Add flour mixture then sour cream/milk in 4 parts, folding in between each addition with a wooden spoon.
Spoon into cupcake liners (mixture will be quite stiff), smooth the tops and bake for 15-20 minutes, or until a skewer placed into the centre of a cupcake comes out clean.  Allow to cool in tin for 5 minutes then place onto cooling rack to cool completely.  Pipe with fudge icing once cooled.
Icing:
Melt chocolate in a heat-proof bowl over a simmering pan of water on low heat, stirring with a spatula to help it along.  Set bowl aside to cool.
Add butter and vanilla to a large mixing bowl and scrape in melted, cooled chocolate with a spatula.  Use an electric mixer to beat on medium speed for 1 minute until combined, thick and creamy.  Sift in icing sugar and a splash of milk and beat further for 3-4 minutes until light and fluffy.  Add a bit more milk if you think it's needed.
Makes: 12
* You can make cake flour by placing 2 x 15ml tablespoons of cornflour into a metric cup then adding plain flour until it's level.  Sift 3 times.  For a 3/4 cup measure, add a 20ml tablespoon of cornflour and proceed as advised.
* I made just enough icing to cover the top of each cake; if you prefer more icing, then double the recipe.
Adapted from: Nigella