I see a lot of recipes for sweet potato vegie burgers around so thought I'd give them a go.
I roasted/sautéed the sweet potato and onion first as it gives a lovely caramelised flavour however apart from that, these are so easy to put together, they're well worth it.
I loved the sweet and spicy taste and so hearty and satisfying, you'll never miss having a meat patty; packed full of vegies, beans and flavour, they're super healthy also.  The crisp, zesty and creamy coleslaw was a great accompaniment and, as I've been discovering, you don't need store-bought mayonnaise when you have some decent Greek style yoghurt on hand and few other easy ingredients.  This mayo is subtly sweet and has a lovely fresh and spicy flavour throughout.
In fact, you could add a bit of crushed garlic to the mayonnaise and voila!  You have aioli dipping sauce or .. use the lime and chilli mayonnaise dressed coleslaw as a side for barbecues or chicken.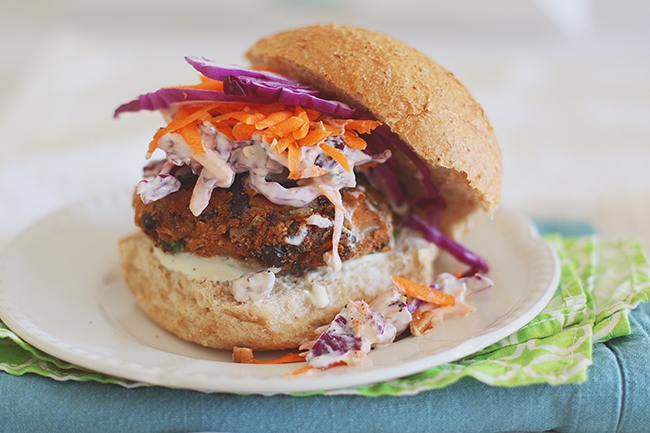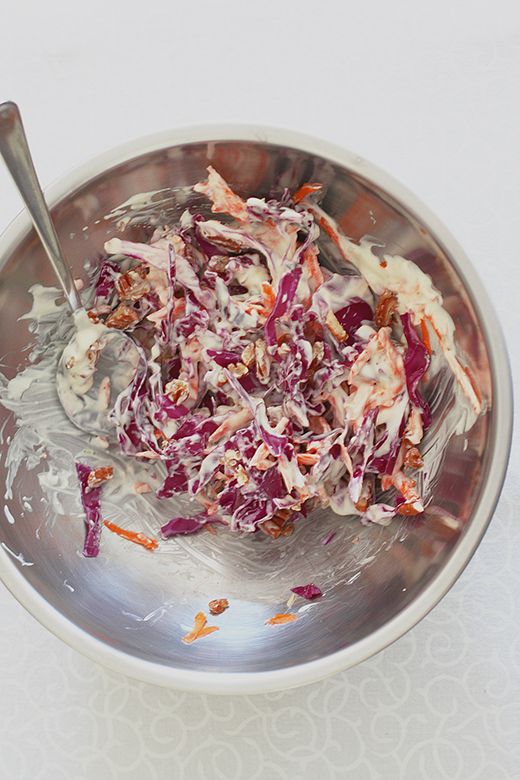 Recipe for spicy sweet potato burgers:
Sweet potato burgers:
Macadamia or grapeseed oil
1 medium Spanish or red onion, diced finely
1 clove garlic, crushed
1 tspn ground cumin
Good pinch chilli flakes (to taste)
520g sweet potato
1/3 cup wholemeal or spelt breadcrumbs
120g cooked black beans
Freshly ground sea salt and black pepper
1 x 15ml tblspn natural peanut butter or tahini
1 tspn maple syrup
2 tblspns continental parsley or coriander, chopped finely
1/4 cup spelt breadcrumbs, extra
Lime chilli mayonnaise:
1 tspn lime zest
Pinch chilli flakes
1 cup Greek style yoghurt
2 tspns Dijon mustard
2 tspns honey
1 medium carrot, peeled and shredded
A couple of handfuls finely sliced red cabbage
30g pecans, chopped finely
4 wholemeal buns
Mayonnaise:
Add all ingredients to a jug or bowl and whisk well until combined and creamy.  Store in the fridge.
Burgers:
Preheat oven to 200C.  Peel and dice sweet potato, drizzle over a bit of oil and roast for 40 minutes until caramelised and soft.  Mash with a potato masher while still on the baking pan, allow to cool a bit then place in large mixing bowl and season well.
Meanwhile in a small frypan, sauté onion, garlic, cumin and chilli flakes in 15mls of oil over low/medium heat until softened and slightly caramelised.  Set aside to cool slightly then add to mashed sweet potato.  Add the rest of the burger ingredients, except for the extra 1/4 cup of breadcrumbs and stir with a wooden spoon until combined.  Add more seasoning and chilli flakes for good measure.
Scatter 1/4 cup of breadcrumbs to a large, flat plate.
Divide sweet potato/bean mixture into 4 then form into patties.  Dip each patty onto breadcrumbs, coating each side and place on a flat surface.
Add the shredded carrot, cabbage and pecans to around two-thirds of the prepared mayonnaise and set aside.  Set aside the remainder of the mayonnaise.
Add a couple of tablespoons of oil to a large skillet or pan and heat to high heat, then turn down to medium.  Sauté burgers on each side for around 3-4 minutes, or until golden and crispy – you may need to turn down the heat half-way through to prevent burning.
Serve burgers with buns, coleslaw, extra mayonnaise, extra cabbage and carrot.
Makes: 4 burgers
Note: The vegetarian patties are vegan.