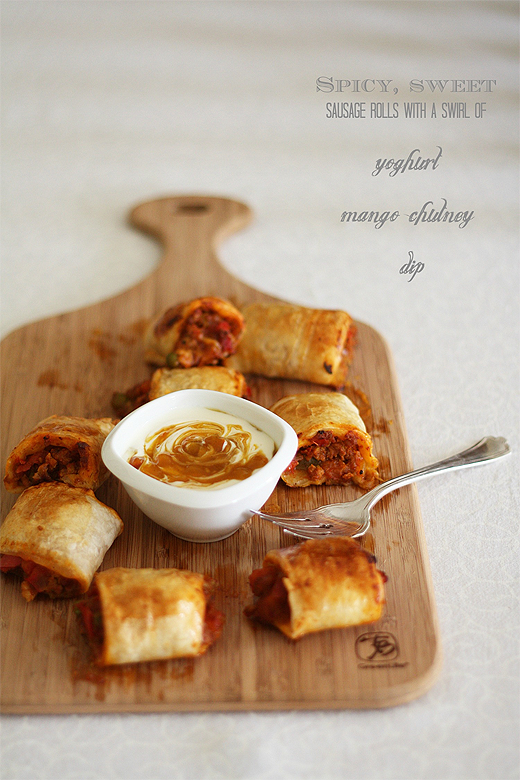 I love these tasty little pastries – if you make them for a group of people, as I have, watch them disappear.  There's just something about sweet and spicy minced meat, melted cheese and flaky pastry which appeals to party people and adding some mango chutney was a perfect combination.
The great thing is that you can make the filling in advance, refrigerate or freeze if until you need it, defrost when required, and use puff pastry from the supermarket to put them together relatively easily.  I also made them a little lighter using turkey, heaps of vegies and reduced fat pastry.
Serve them hot from the oven with pots of chutney nearby and an icy cold beer or cider alongside!
Recipe for spicy turkey and vegetable sausage rolls with chutney and cheese:
30mls grapeseed or macadamia nut oil
1 medium Spanish onion, diced finely
2 cloves, garlic, crushed
1 medium carrot, peeled and diced finely
1 large stalk celery, diced finely
1 medium red capsicum, diced finely
1/2 tspn cumin, ground
2 tspns curry powder
1/4 tspn sweet paprika
Chilli flakes, to taste
Freshly ground sea salt and black pepper, to taste
300g minced or ground turkey (can sub beef or chicken mince)
1 x 400g tin crushed or diced tomatoes
1 low sodium chicken, beef or vegetable stock cube depending on the meat you use
1/4 tspn ground coriander
40g frozen peas
A good chutney (I used mango)
A handful good cheddar (I used Nimbin), grated coarsely
1 egg, whisked
3 sheets store bought reduced fat puff pastry
Mango chutney and plain yoghurt to serve
Add oil, vegetables (except the peas), spices and seasoning to a large, heavy based saucepan or pan, bring to sizzle then turn down to low/medium and slow sauté covered until vegetables are softened.  Use a slotted spoon to remove the vegetable mixture to a plate, then bring to high heat and add a bit more oil if you like, then add the turkey mince, breaking it up with a wooden spoon until just browned.  Add the vegetables back to the pan along with the diced tomatoes, stock cube and coriander, bring to the boil then turn down to low/medium and simmer, uncovered (I used a splatter guard) for 25-30 minutes until thickened and rich.  Add the peas right at the end and stir through.
Sit aside for 10 minutes until cooled down slightly.
Meanwhile, preheat oven to 200C.  Line base of 2 large flat baking trays with baking paper.
Place each pastry sheet on clean, flat surface and slice in half.  Spoon 1/6 of the mixture down the centre of each pastry half and brush the edges with egg.  Spoon a heaped tablespoon of mango chutney evenly down the centre and sprinkle with a bit of cheese.  Roll up long sides of pastry halves as tightly as possible into rolls then use a sharp knife to slice each roll into 6 pieces.  Place rolls onto prepared baking trays.
Brush each sausage roll with egg and bake for 25-30 minutes or until golden brown.
Stir together equal amounts of chutney and yoghurt in small bowls (making a swirl pattern) as a dip for the rolls to be served with.
Makes: 36
Note:  filling freezes well.