I whipped up this Tuscan inspired, tasty little dish on a rainy, cold day and it was lovely.  I don't use a lot of cured meat in cooking but I do have a thing for occasional chorizo in dishes because it just adds a little spicy something.  It might seem simple but the flavours of chilli, sweet tomato and capsicum with creamy beans make for an interesting, tasty little dish.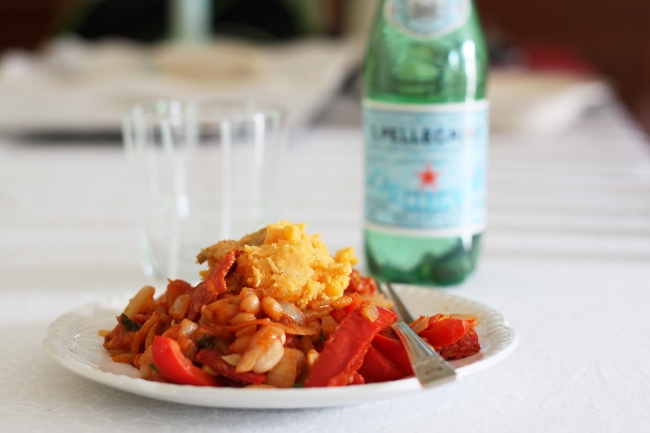 Recipe for spicy beans with sweet potato mash:
1 x 20ml tblspn grapeseed oil
1 onion, diced or sliced
2 cloves garlic, crushed
1 red capsicum, sliced
Pinch chilli flakes
Freshly ground sea salt and black pepper
100g thinly sliced chorizo
1 400g tin crushed tomatoes
1 400g tin cannellini beans, rinsed and drained
1 fresh bay leaf (or 2-3 dried)
1 tblspn chopped continental parsley
4 whole cloves of garlic
200g sweet potato, peeled and diced
150g white potato, diced
Butter, milk, seasoning
Preheat oven to 200C.  Place 4 whole cloves of garlic onto a sheet of foil and roast for 30-40 minutes.
Place potatoes into a large saucepan and bring to a boil then simmer for 20 minutes, or until tender.
Meanwhile, place oil, onion, garlic, capsicum, chilli flakes and seasoning into a medium sized, heavy based frypan and sauté on low-medium for 10-12 minutes, stirring frequently, until onion is transparent.  Add chorizo slices and toss through for a few minutes to brown then turn heat up to simmer and add tomatoes, beans and bay leaf and simmer, stirring regularly for 10 minutes, or until heated through.  Add seasoning to taste.
Remove garlic from the oven and peel.
Drain potatoes, then place saucepan back onto the hotplate to dry any moisture.  Remove from the hotplate and add garlic, a decent spoonful of butter and splash of milk, mashing then stirring briskly.  Add seasoning to taste.
Remove beans and tomato from hotplate and add parsley and stir through.
Serve beans with sweet potato mash, rustic bread and vegies.
Serves: 2 large servings
Note:  If you're not keen on chorizo or prefer a vegetarian dish instead, use kalamata olives or vegetarian sausages.