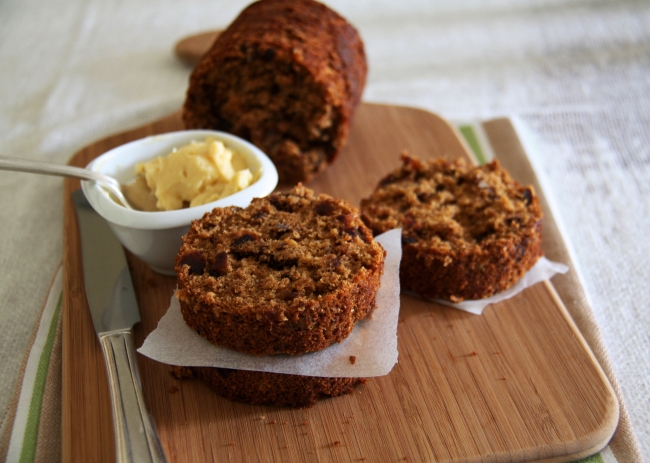 I realise a lot, if not most people, wouldn't have nut roll tins in their cupboards.  I also realise that this traditional Australian recipe is really old fashioned, in fact my grandmother used to make these when I was a kid.  Despite that, I love this cake precisely because of it's lack of foodie coolness, and you can always use the tins for all kinds of cake recipes.  Nut roll tins act in a similar way a pudding tin might; the cake steams and rises within the tin and it makes for a tender cake.  This is also a healthier, low fat version of cake with wholemeal flour, dates and nuts and it freezes well.
Nut roll tins are quite difficult to come by, so if you're on the lookout you might need to go to a kitchenware store and ask if they can order them in for you (I recommend the non stick ones – mine aren't and are dented from bashing them on the kitchen bench to remove the cakes.  Also, you should really buy two as most recipes fit two tins).  Alternatively, you can use old, clean fruit juice tins with the label peeled off by opening up one side and using double foil as a cover for the top.  eBay also has quite a few for sale.
This soft, sweet cake full of chewy dates and crunchy pecans with a hint of spice is one of those perfect teatime baked treats.  I love having a piece or two with maple butter and a pot of tea.
  Recipe:
80g unsalted butter or baking margarine
1 cup just boiled water
180g finely chopped dates
1/2 tspn bicarbonate of soda
1 tspn vanilla or maple extract
1 cup firmly packed brown sugar
1 cup self raising flour
1 cup wholemeal self raising flour
1/2 tspn baking powder
1 tspn mixed spice
80g pecan nuts or walnuts, toasted and chopped
1 large egg, beaten lightly
Maple butter:
80g unsalted butter, softened
1/2 tspn maple or vanilla extract
30mls maple syrup
Position oven shelf to low so the nut roll tins can stand upright.  Preheat oven to 180 degrees C (170 degrees fan forced).
Grease very well two 8cm x 20cm nut roll tins and line the bases with baking paper.  Sit tins on baking tray. It's important to grease the tins well as the cakes can be tricky to remove otherwise.
Add water and butter to a large heatproof mixing bowl and stir until butter is melted; stir in dates then sift in bicarb of soda and let sit for 2 minutes.  Stir in essence and sugar; then sift in flours, baking powder, spice with the nuts and egg and fold further until combined.
Spoon mixture into tins and place the lids on firmly – the mixture should only come half-way up each tin as the mixture rises a lot during baking.  Bake, standing tins upright, for 50 minutes.
Remove tins from oven and sit on baking tray on cooling rack for 10 minutes.  Remove lids from the tops and the bottoms of the tins; shake the tins gently to release rolls onto cooling rack.  You might need to insert a butter knife carefully around the sides to help it along.
Maple butter:
Beat butter, extract and maple syrup using electric beaters on medium speed, until fluffy, around 1-2 minutes.  Keep stored in container in the fridge.  You'll need to stand it at room temperature for half an hour before you use it so it softens.
Serves: 12
For freezing: allow loaves to cool completely; cut into slices, wrap in plastic wrap and freeze.  Defrost at room temperature or in the fridge.