I love using maple syrup for savoury things and it goes particularly well with spicy, chilli based dishes.  Instead of using traditional kidney beans for this spicy, Mexican dish, I thought I'd use black beans and some maple chilli roast sweet potato to add another flavour.
I love the crispy sweet, caramelised potato with creamy avocado and the hearty chilli beans in a soft taco.  You could also use crunchy taco shells for this filling.  I've tagged this vegan because you don't really need the sour cream, although it tastes lovely.  Maybe vegans have vegan sour cream they could use?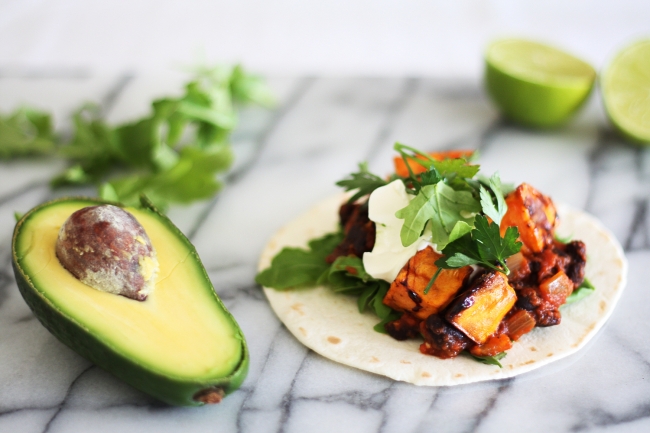 Recipe for maple sweet potato and black bean tacos:
400g sweet potato, peeled and diced fairly small
30mls maple syrup
30mls grapeseed oil
Pinch chilli flakes
Freshly ground black pepper and sea salt
Black bean tomato filling:
20mls grapeseed oil
1 onion, diced
2 cloves garlic crushed
1 fresh chilli diced or chilli flakes (leave out seeds of the fresh chilli if preferred)
2 tspns ground cumin
1/4 tspn ground coriander
1/8 tspn paprika
Freshly ground black pepper and sea salt
2 heaped tblspns tomato paste (low or no sodium)
1 400g tin black beans, drained and rinsed or 250g cooked black beans
1 400g tin crushed tomatoes
8 small taco shells or soft taco wraps
4 lime halves
1 large avocado, sliced
120g sour cream (optional)
Fresh coriander or flat leaf parsley leaves, chopped coarsely
Preheat oven to 200C.  Place baking paper over base of a flat baking pan.
Add maple syrup, oil, chilli and seasoning to a bowl and stir to combine.  Toss with diced sweet potato until well covered.  Spread over the prepared baking pan, evenly spaced out and roast for 35-40 minutes, or until caramelised and cooked through.  It's a good idea to turn them over around half way through but not completely necessary.   Once removed from the oven, use some tongs to move the pieces through the maple syrup mixture on the base of the pan.
Meanwhile, add oil, onion, garlic, spices and seasoning to a medium/large, heavy based saucepan.  Bring to high heat then turn down to lowish heat and sauté with the lid on for 8 minutes, stirring regularly until onion is transparent.
Turn heat up to medium/high.  Add tomato paste and cook down for a  minute.  Add tomatoes and bring to a simmer on medium heat and continue to cook, uncovered or with the lid to the side, for 15-20 minutes or until reduced a bit and thickened.  Just before the end of cooking time, add the black beans and stir to combine, heating through.  Add further seasoning if you like.
Take off the hotplate and allow to sit uncovered for 5 minutes.
Layer the black bean mixture, a squeeze of lime juice, roast sweet potato, avocado, sour cream and herbs onto the soft tacos.
Serves: 4 (2 small tacos each)
Note: Black bean tomato filling can be made in advance or frozen.