I'm on a bit of a Bill Granger kick at the moment.
So I spotted Bill's rather tropical sounding cake online a while back and was keen to try it, as most of the dry ingredients are from ground macadamia nuts and there's no dairy, including butter.  The fat comes from beaten egg yolks and you also do a bit of fancy whipping of egg whites and such which intrigued me.  Not that there's anything wrong with butter or dairy, at all, but sometimes I like to bake different sorts of cakes because it makes things more interesting.
I loved the texture and flavour of this beautiful cake; it's tender and moist, yet substantially textured (nothing delicate or fragile about this, you really feel you've had a decent piece of cake, the sort you'd have at a café perhaps), with a lovely lime and coconut flavour coming through.  And the zesty glaze!  I'm really loving citrusy glazes currently with baking, they're so simple with only a couple of ingredients but so full of flavour.
It's best served on the day you make it, however I did freeze a few slices for defrosting at another time and it was still pretty amazing with a strong cup of coffee.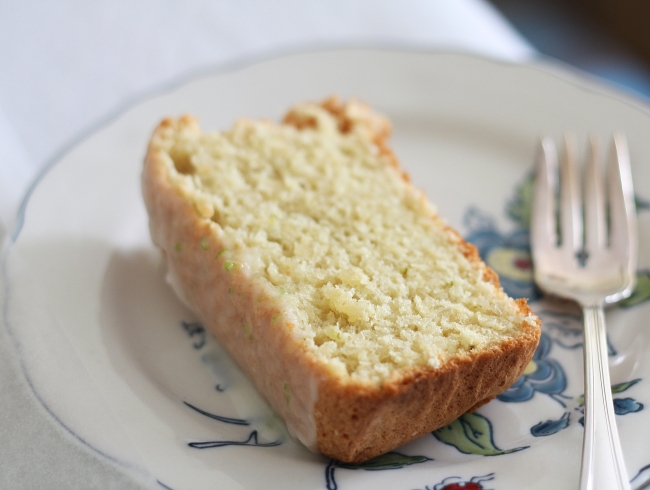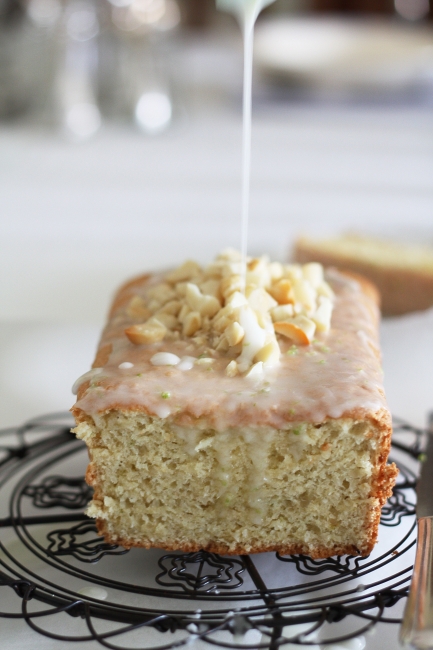 Recipe for Bill Granger's lime, coconut and macadamia cake:
200g raw macadamia nut halves
40g or 2 1/2 tblspns (20ml) self raising flour
1/4 tspn salt
45g or 1/2 cup desiccated coconut
Fine zest from 2 limes
6 large eggs
165g or 3/4 cup raw caster sugar
1 tspn vanilla extract
Icing:
125g or 1 cup icing sugar
20-30mls fresh lime juice
Fine zest from 1 lime
30g or 1/3 cup macadamia nuts, extra
Separate eggs while still chilled from the fridge (it's much easier).  Set both whites and yolks aside to come to room temperature (around 10 minutes or so).
Preheat the oven to 180C.  Grease a 23cm deep loaf tin and place baking paper on the base and up the sides.
Place extra 30g of macadamia nuts on a baking paper lined baking tray and toast for 5 minutes, or until golden brown around the edges.  Chop coarsely and set aside.
Process the 200g of macadamia nuts in a food processor until ground finely and of a fluffy texture.  Add macadamia nuts, flour, salt and coconut to a large bowl and whisk to combine.
Use an electric mixer to beat the egg yolks, sugar and vanilla in a separate bowl on medium speed for 2 minutes, or until mixture is pale in colour, creamy and thickened.  Add flour mixture and lime zest and fold through until combined (don't over-mix).
Meanwhile, beat egg whites in a large, clean and dry mixing bowl on high speed until soft peaks form (I used the Kitchenaid).
Fold around a third of the egg whites through the flour/egg mixture carefully, then add the remainder, folding through and mixing carefully until combined but not over-mixing.
Pour the cake batter into prepared tin.  Bake for 35-40 minutes, or until cake is golden brown and just firm on the top.
Cool cake in tin for 10 minutes then turn out onto cooling rack using the baking paper.  Allow to cool but when still a bit warm, drizzle over some of the icing then pile over the toasted, chopped macadamia nuts.  Drizzle over more icing to make sure the nuts stay in place.
Icing:
Sift icing sugar into a bowl and add the remainder of the ingredients (add the lime juice gradually, depending on how thick you want the icing to be).  Use a wooden spoon to mix briskly until icing is smooth and shiny.
Serves: 10
Adapted from: BBC – Bill Granger