I love fig season!  It's so short but they're such a luxurious treat at a time when most fruit and vegies are available year round.  It's worth hunting them down and I always use them as an opportunity to whip up some lovely treats.  And while figs are pretty special raw, caramelised down slowly, they become soft and velvety and taste even more wonderful.
This heart healthy, rustically pretty vanilla cake with a honey glaze and gorgeously caramelised fig and nut topping might look difficult to make but isn't at all.  It's loveliest at the time it's made, sweet and warm, however I kept some in the fridge overnight, reheated it in the microwave (I finally caved and bought one) and it was pretty damn good for breakfast the next day.
I've tried to keep the sugar down as much as possible given I've tagged this a healthy cake, however feel free to use a bit less if you have any concerns.  Me, I can cut down on saturated fat or sugar however both is a big challenge.  And you can always have a smaller piece or have it for breakfast as I did.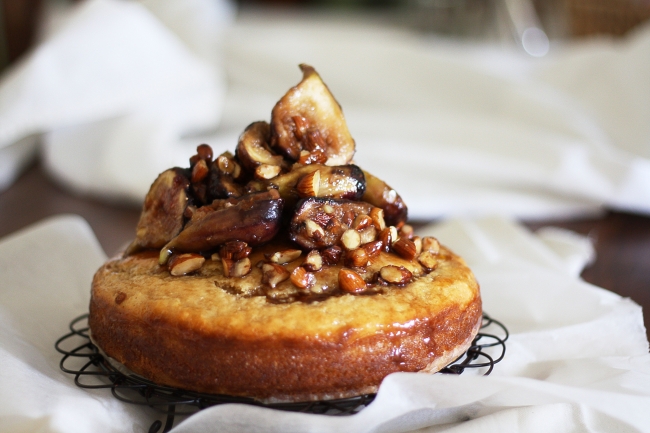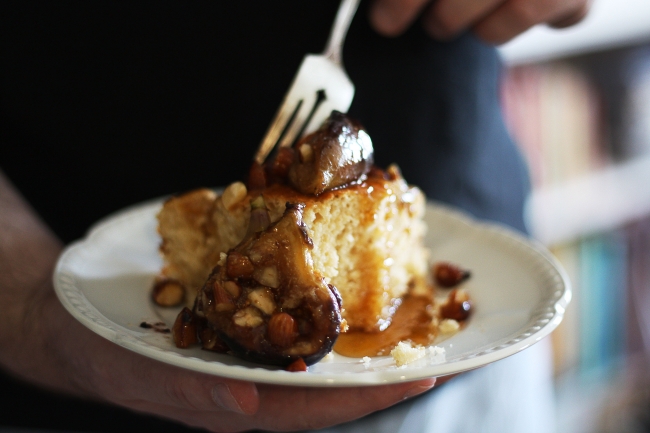 Recipe for fig cake:
1 cup white self raising flour
3/4 cup wholemeal self raising flour
60mls grapeseed oil
2 tspns vanilla extract
1/2 cup raw caster sugar
2 whole eggs
1 cup low fat buttermilk (shake before using)
20g (1 metric tblspn) heart approved margarine (I used Flora Buttery)
1/4 cup brown sugar
5-6 fresh figs, halved
60g whole almonds, chopped coarsely
Honey glaze:
80mls (1/3 cup) organic honey
1 or 2 15ml tblspns brown sugar
40g (2 metric tblspns) heart approved margarine
1 teaspoon pure vanilla extract
Cake:
Preheat oven to 175C.  Grease a 20cm spring-form cake tin and line base with baking paper.
Sift flours into a medium bowl and set aside.
In a large bowl, using electric mixer on medium speed, beat oil, vanilla, sugar and eggs (or egg whites) until sugar has dissolved a bit, for around 2 minutes.  Add half the flour mixture and fold through with a wooden spoon or spatula, then add half the buttermilk, the remainder of the flour then the remainder of the buttermilk, folding between each addition until combined (don't over beat).
Pour into prepared tin and bake for 30 minutes, or until a skewer inserted in the middle comes out clean and the top is light golden.
Immediately sit cake tin over baking paper then drizzle half of the hot honey glaze over the top of the cake, brushing evenly (the other half can be used for individual serves).  Allow to cool in tin for 2 minutes, run a butter knife around the side of the cake then remove the side of the tin, carefully.  Continue to cool on base for a few minutes then transfer cake to cooling rack by inserting a large egg flip underneath the cake carefully (I leave the baking paper on the base of the cake).
Pile over caramelised figs and almonds, including the caramelised sauce they cooked in.
Serve with Greek yoghurt or ice cream and an extra drizzle of honey glaze.
Figs and almonds:
Melt butter and sugar in a small non stick frypan on medium/high heat until bubbling.  Add almonds then figs, cut side down and simmer on low-medium heat until softened and slightly caramelised, for around 2 minutes, stirring gently occasionally and standing nearby.  Set aside to cool a bit.
Honey glaze:
Just before the end of cooking time for the cake, place all ingredients into a medium sized heavy based saucepan.  Bring to boil then decrease immediately to low heat and simmer for 2 minutes, stirring continuously until sugar dissolves (stand nearby at all times as it foams up quite a bit).
Cake, glaze and figs best served straight away.
Honey vanilla glaze adapted from:  Martha Stewart
Serves: 10