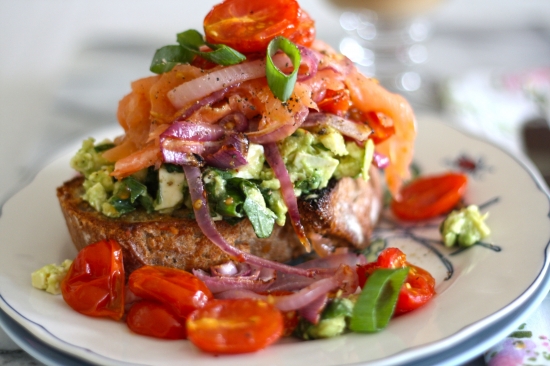 Earlier this week, I posted the first of 3 reviews for Tassal salmon.  Today's recipe uses Tassal's lovely, rich, thinly sliced smoked salmon inspired by a breakfast trend I spotted recently, the F.A.T. (aka feta, avocado and tomato), the latest breakfast offering in cafes, which is so cool right now, it's ridiculous.
I kid.  It's a really delicious breakfast and whether it's cool or not is irrelevant.  So I've come up with my own dish – the F.A.T.S. – feta, avocado, tomato and salmon.  Don't let the name fool you though!  It's full of healthy things including Tassal's salmon, which is packed full of nutrients.
Not surprisingly, this was as good as it sounds, with all the flavours and textures you could imagine all competing so well with each other; salty, sweet, creamy, smooth, crunchy and just plain luscious.  The smoky, savoury, buttery richness of the salmon lifted this to a luxurious level of breakfast eating.
I think this dish would be really special for a breakfast treat during the Christmas season, maybe Christmas Day if that's your thing?  With a glass of champagne or sparkly something something (I love doing this, it makes me feel like a rock star or something, on any other day I'd never drink champagne in the morning.  Vodka maybe.  I kid again!).
This easy, festive dish will keep you going well until a late Christmas lunch or dinner, so give it a try because trust me, you won't regret it and your holiday visitors will love you for it!
All opinions stated here are my own, I wasn't paid to trial or review any products and I wasn't under any obligation to write a positive review.
Recipe for feta, avocado, tomato and smoked salmon on sourdough:
250g punnet cherry tomatoes, halved
1/2 medium red onion, sliced thinly
Grapeseed or olive oil
2 thick slices sourdough bread
1/2 medium sized avocado
90g Greek style Feta cheese, cubed
Extra virgin olive oil
1 small lime, juiced
Small handful chopped basil leaves and spring (green) onions
100g Tassal sliced smoked salmon
A few extra spring (green) onions sliced thinly
Cracked black pepper and sea salt, to taste
Preheat oven to 200 C.
Toss halved cherry tomatoes and sliced red onion with grapeseed or olive oil, season, then roast for around 30 minutes on a baking paper lined baking tray, or until onions are caramelised and tomatoes have broken down but are still intact.
Just before the end of cooking time for the tomatoes and onion, peel, dice then roughly mash avocado and cubed feta in a small bowl and add seasoning; add a drizzle extra virgin olive oil, lime juice, spring onions and basil then stir gently to combine.
Toast sourdough bread then butter.
Place toast between two plates.  Add avocado mixture, then top with tomato and onion mixture and smoked salmon – sprinkle with sliced green onions and add freshly ground black pepper (it shouldn't need salt as the feta and smoked salmon are salty enough but that's up to you).  Drizzle with a teeny bit more extra virgin olive oil if you like.  Serve immediately.
Serves: 2
Adapted from: SMH
Note:  you can store unused avocado halves by leaving the stone in, placing a damp paper towel around the flesh, covering tightly with plastic wrap and storing in the fridge for up to 24 hours.