I realise poor little cauliflower isn't the most popular vegetable in the bunch (compared to say, the sexy avocado and frilly, trendy kale it must feel quite lonely), but we should all be eating more of it according to doctors and experts in these things.  And less of the fun stuff.  Also cauliflower allegedly has negative calories!  Can this be true?  And more importantly, why can't apple pie, wine or chips have negative calories?!  Whoever decides these things has a lot to answer for.
Despite all of that, I loved this winter inspired, spicy, sweet and fragrant stir fry I made a while back, which is super healthy and pairs perfectly with nutty brown rice.  I used red onion to spice things up a bit and add a splash of colour.  And I promise if you make it, you'll get to have that smug feeling of being wonderfully health conscious.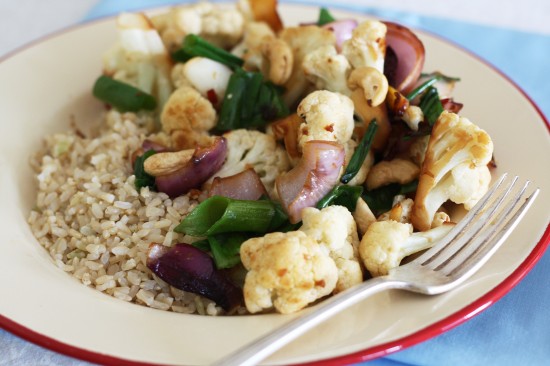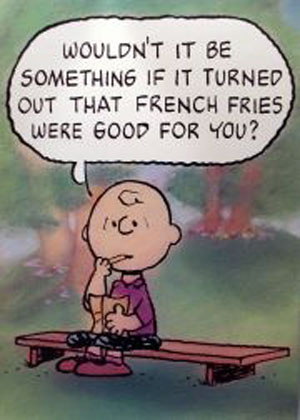 Image of Charlie brown via Pinterest
Recipe for stir fried cauliflower with soy sauce, ginger and chilli:
40mls grapeseed oil
450g chopped cauliflower in bite size pieces (the smaller the faster it'll cook)
1 red onion, sliced
2 cloves garlic, crushed
1 fresh chilli, finely diced, seeds removed if preferred
1 tspn grated fresh ginger
2 tspns brown sugar
2 x 15ml tblspns reduced sodium soy sauce
A handful cashews
Sliced spring onions on the diagonal
Add 20mls oil, onion, garlic, chilli and ginger to wok or large pan and heat on medium, covered, stirring regularly to lightly caramelise the onion mixture (being careful not to burn) for 4-5 minutes, or until onion is transparent.  Add remaining oil then cauliflower and brown sugar and toss through onion mixture.  Sprinkle over a bit of water (or stock if you have some around), turn down to low/medium, cover and cook for 10 minutes or until cauliflower is tender, stirring the cauliflower regularly (I use a skewer to check when it's done).
Around 2-3 minutes before the end, add soy sauce, stir through and continue cooking, covered.
Stir through spring onions and cashews after removing wok or pan from the hotplate.
Serve with brown rice.
Serves: 2 large mains, 4 sides
Note:  Fresh ginger can be frozen by leaving it unpeeled, chopping into smaller pieces and wrapping each piece in foil then placing in a freezer bag.  It's great to use in vegie juices, baking, stir fries and curries.