I love this combination of cookie – little tart yet sweet dried cranberries and a burst of candy sweetness from white chocolate.   I prefer these cookies chewy with chunks of white chocolate because there's just something really messily decadent about those uneven chocolate pieces.  No neat little cookies for me, I'm a giant cookie girl.
Not that I'd knock back any cookie you understand, if it was offered, I never look a gift horse (cookie?) in the mouth.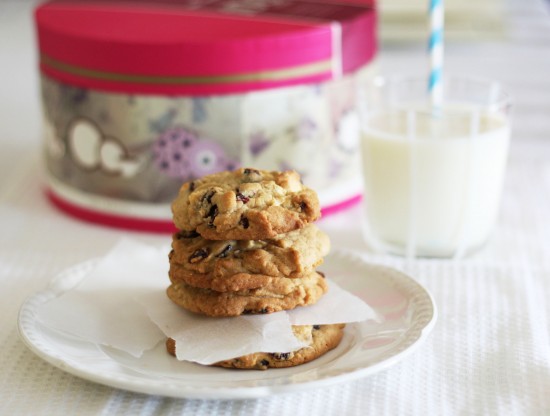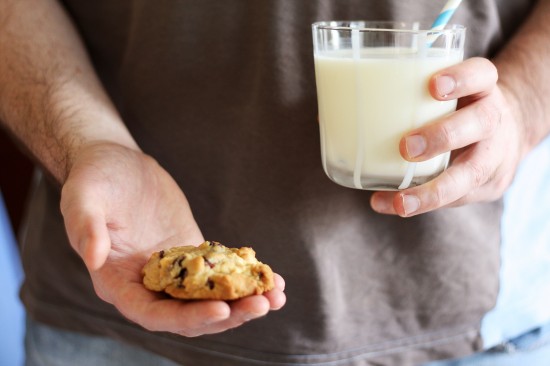 Recipe for White Chocolate Cranberry Cookies:
120g unsalted butter, at room temperature
1/4 cup raw caster sugar
1/2 cup packed brown sugar
1 teaspoon vanilla extract
1 large egg
1 3/4 cups plain flour
1/4 tspn fine sea salt
1/4 tspn bicarbonate of soda
120g white cooking chocolate, chopped roughly
80g dried cranberries, chopped quite finely
Preheat oven to 180 degrees C.  Line 2 cookie pans with baking paper.
Using an electric mixer on medium speed, beat the butter for a minute or so, or until creamy.  Add the sugars and vanilla then beat for 2-3 minutes, or until light and fluffy.  Reduce speed to low then add the egg and beat only until just combined.
In a separate bowl, whisk together the flour, salt and baking soda – make sure there are no lumps from the baking soda or salt.  On low speed gradually add the dry ingredients to the butter mixture until just combined.  Fold in the cranberries and chopped chocolate with a wooden spoon – don't over-beat.
Using 2 tablespoons, scoop the dough into heaped, large tablespoon-sized mounds and place onto baking pans, leaving 5cm between each cookie.  Bake for 12-14 minutes, or until lightly browned in the centre and a bit more at the edges (this will depend on your oven and the size of the cookies however).
Cool on baking pans for 5 minutes then transfer to a cooling rack.
Makes: I got 13 large cookies out of this.