Rustic, spicy and pear studded describes this winter inspired loaf perfectly although it's far from perfect looking.  I'm not the neatest cook ever!
Despite this, I love the soft, fragrant crumb and crunchy crust combined with fresh pieces of pear and toasted pecans.  It's delicious with butter and is best on the day it's baked however is also lovely toasted under the grill after defrosting from the freezer.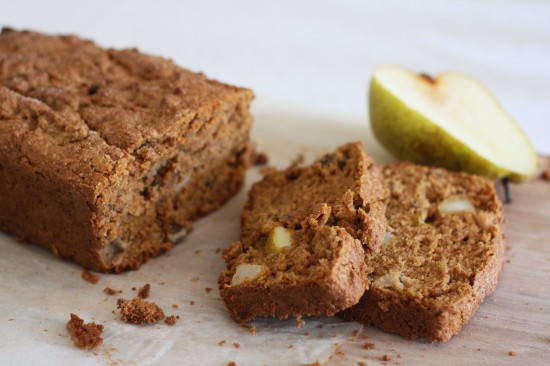 Recipe for pear spice loaf cake:
1 cup plain flour
3/4 cup wholemeal plain flour
1.5 tspns baking powder
1/2 tspn baking soda
1/4 tspn salt
1/2 tspn mixed spice
1 teaspoon cinnamon
1/2 tspn ground nutmeg
1/2 tspn ground ginger
1 large ripe but still firm pear (250g whole weight), cored and diced in small pieces (I don't peel them)
60g toasted pecans, chopped
1/2 cup unsalted butter or baking margarine, softened at room temperature (don't add extra salt if using margarine)
3/4 cup brown sugar, packed well
1 teaspoon pure vanilla extract
2 large eggs (59g whole weight)
1/4 cup maple syrup
1/2 cup Greek yoghurt, sour cream or creme fraiche
Cinnamon sugar mix for sprinkling
Preheat oven to 175C (I baked mine at 180C which was a little high).  Grease 23x11cm loaf tin – line base and sides with baking paper, leaving some hanging over the sides for easier removal.
Into a large mixing bowl, sift flours, raising agents, salt and spices.  Toss through fruit and nuts until coated with flour.
Whisk maple syrup and yoghurt in a small bowl until combined.
In a separate mixing bowl, beat butter and sugar on medium speed using an electric mixer for a minute or two, until pale and creamy.  Decrease speed to low then add vanilla, and eggs one at a time, beating until just combined after each addition.
Using a wooden spoon or spatula to fold between each addition, add half the flour, Greek yoghurt/maple syrup mixture then the remaining flour mixture.  Make sure you don't over-beat the mixture.
Spoon into prepared tin, smooth the top with a spatula or butter knife and sprinkle cinnamon sugar mixture evenly over.  Bake for 40-45 minutes or until light golden brown and skewer inserted into the centre comes out clean.
Cool in tin for 8 minutes then remove onto rack to cool.
Serves: 8-10
Note:  can be frozen for up to a month