I love the creamy texture and coconut flavour of this soup combined with sweet pumpkin and carrots and only a handful of other ingredients.  It's gorgeous sprinkled with chopped pistachios and a toasted cheese sandwich on the side .. a perfect Saturday lunch on a cold day.  A swirl of Greek yoghurt wouldn't go astray either but I didn't have any.
I realise I'm taking liberties with the cheese sandwich as I've tagged this vegan, but I'm a sucker for toasted cheese with soup.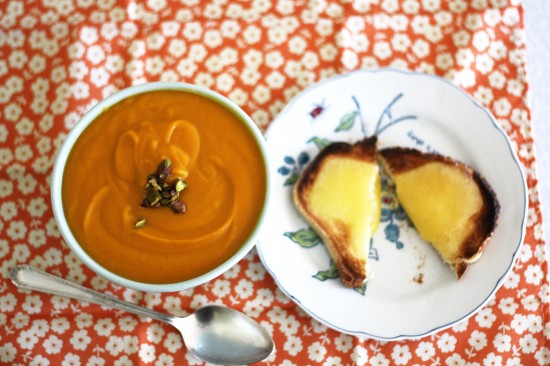 Recipe:
30mls grapeseed or olive oil
1 medium onion, diced
2 cloves garlic, chopped or crushed
Pinch chilli flakes
Sea salt and black pepper
300g carrot, peeled and diced
920g pumpkin, peeled and chopped in cubes
1 1/2 cups water
180mls organic full fat coconut milk
Handful shelled, unsalted pistachios, chopped
Greek yoghurt
Saute onion, garlic, chilli and seasoning in oil over medium heat until onion is transparent.  Add carrot and pumpkin and toss through mixture briefly then cover saucepan for 2-3 minutes – add further seasoning.
Add water and cover, simmering over low-medium heat for 20 minutes, or until carrot and pumpkin are soft, stirring occasionally.  Add coconut milk and cook for further 3-4 minutes.  Add more seasoning to taste.
Allow to cool a bit then blend or process until mixture is smooth.  Heat soup over medium heat until hot before serving.
Serve with Greek yoghurt and sprinkle with pistachios.
Serves: 4
Note:  freezes well