I based this on your basic chickpea hummus but added baked sweet potato and a teeny bit of chilli.  It seems I've always eaten hummus and tzatziki, I sometimes make these dips from scratch and sometimes buy them ready made, either way they've made up a large part of my lunches over the past 15 years or so.
Seeing as we're in cooler weather still and have a lot of gorgeous sweet potatoes around, I wanted to try a sweet potato hummus and also because, even my favourite things to eat need an upgrade every now and again.
This dip tastes sweet and slightly spicy with a pleasing, subtle peanut flavour.  It was a wonderful contrast with the cool, creamy and zesty tzatziki and crunchy, spicy pita chips.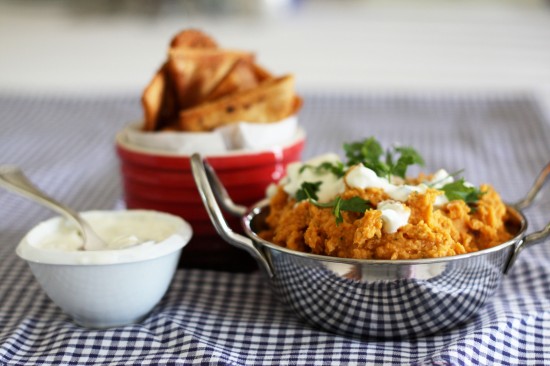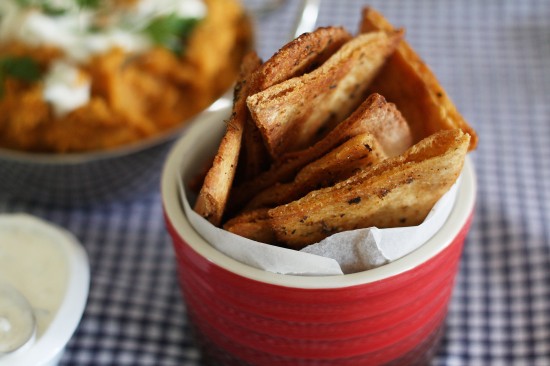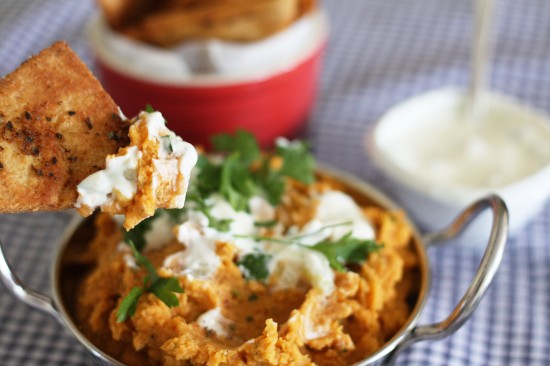 Recipe for sweet potato hummus with spicy pita chips
1 large sweet potato, scrubbed (550g)
1 400g tin organic chickpeas, drained and rinsed (or 240g cooked chickpeas)
2 x 15ml tblspns unhulled tahini at room temperature (see note)
3/4 tspn ground cumin
1/4 tspn smoky paprika
1 teeny pinch chilli flakes
2 small cloves garlic, crushed
15mls lemon juice
1 tspn lemon zest
Freshly ground black pepper and sea salt
45mls grapeseed oil
Tzatziki:
4 x 20ml tblspns plain Greek yoghurt
1/4 Lebanese cucumber, diced really finely (around 2 tblspns)
1 tspn white wine vinegar
1 small garlic clove, crushed
1/2 tspn lemon zest
Sea salt and black pepper
Finely diced continental parsley
Pita chips:
8 wholemeal pita breads
2 x 20ml tblspns grapeseed oil
2 x 20ml tblspns butter, melted
Cajun seasoning or any other spice seasoning you might prefer
Preheat oven to 200C.  Place sweet potato on baking paper lined flat baking tray for an hour to an hour and a half, or until sweet potato is softened (I use a skewer to test it).
Remove sweet potato from the oven and set aside for 20 minutes or so.  Using tongs and a sharp, small knife, peel the sweet potato and place into a bowl to cool.
Place all ingredients, except the oil, into a food processor and process until combined fairly well.  Add oil through opening until mixture is of smooth, light and fluffy consistency – I used 40-50mls of oil, you might need a bit more or less, depending on how fresh your sweet potato is.
Place into a bowl and serve topped with tzatziki, chopped continental parsley with spicy pita chips on the side.
Tzatziki:
Place all ingredients into a small bowl and mix until combined well.  Store in the fridge until ready to use (I would use it in a couple of days).
Pita chips:
Preheat oven to 200C (190C fan forced).  Line two flat baking trays with baking paper.
Slice each pita bread into halves, then slice each half into thirds.  Combine oil and butter then brush over the pita chips, making sure to cover each side.  Sprinkle over seasoning.
Place pita pieces in one layer on baking trays and bake for 12-15 minutes, or until golden brown and crisp.  Keep an eye on them as they tend to burn around the edges – you may need to turn the tray around  half way through.
Remove from the oven and cool on trays for a few minutes before eating.
Whole recipe serves:  4
Note: tahini comes either hulled or unhulled – Unhulled is slightly darker with a stronger, slightly bitter flavour.  I prefer unhulled but this is a matter of preference and you could use either.