A spontaneous dish I made initially to use up the rest of the broccoli in the crisper and have made quite a few times since.
This rustic dish was lovely with simple ingredients; the freshness of broccoli, a subtle hit of chilli, some crunchy nuts and salty Parmesan, all piled up in a bowl invitingly.  I served ours with avocado because we had a ripe one in the fruit bowl and because well, everything's better with avocado.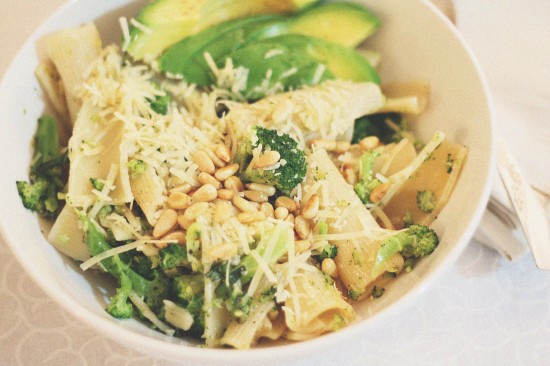 Recipe for Penne with Broccoli:
220g penne pasta
240g broccoli
2 cloves garlic, crushed
Small pinch chilli flakes
60mls extra virgin olive oil
1 tspn lemon zest
Small handful fresh basil, chopped
40g finely grated Parmesan cheese
Freshly ground sea salt and black pepper
20g pine nuts, toasted
Chop broccoli florets into small, bite sized pieces.
Bring a large pot to the boil; add a teaspoon of sea salt then add the pasta.  Boil for 7 minutes then add the broccoli – continue simmering for 4-5 minutes, until broccoli and pasta are tender and broccoli is still bright green.
Add 20mls of the oil to a medium to large sized pan and preheat over lowish heat, adding the crushed garlic and chilli flakes, stirring to prevent browning – the idea is to flavour infuse the oil rather than brown the garlic and chilli, so turn off and remove from the hotplate once you hear sizzling.
Remove the broccoli from the pasta water when slightly tender but still bright green, using a slotted, flat spoon.  I usually test a piece with a skewer beforehand.  Add the broccoli to the garlic oil, turn up the heat slightly and toss for a couple of minutes until coated with the oil.
Drain the pasta when just al dente; retaining a bit of the pasta water.  Place the drained pasta into the garlic oil and broccoli and toss through with the lemon zest, basil and remaining 40mls olive oil and heat through – season with black pepper and sea salt to taste.  If you think it needs moistening, add a small splash of the reserved pasta water.
Add the grated parmesan then serve, sprinkling pine nuts over the top of each serving.
Serves: 2 large, 3 smallish to medium