It's not so much a Bastille Day we had on the weekend, as a Bastille week because this is the second French dish I've posted.  And why not after all?  French food is amazing; classy and unashamedly seductive.
And speaking of classy and seductive; I remember travelling by train to Paris years ago and sitting across a perfectly understated, stylish, sweet French girl and her friend on holidays from their home town, who struck up a conversation with me.  I was fascinated by this girl (secret girl crush I'm sure) as everything she did and said seemed so interesting and otherworldly to an Australian student wearing pigtails, old jeans, Doc Martens and carrying a backpack.
Anyway, as is fairly evident from my recipes, I don't eat a lot of red meat but when I do, I go all out.  This classic dish couldn't be easier or more economical but the results are always amazing.  Flavoursome, herby, red wine sauce with soft, fall-apart pieces of steak and hearty vegetables served on mashed, fluffy, very cosy sweet potato.
So on a lazy afternoon we got my nanna's fancy plates out and had quite a few glasses of red wine with this sort of retro dish which never goes out of style.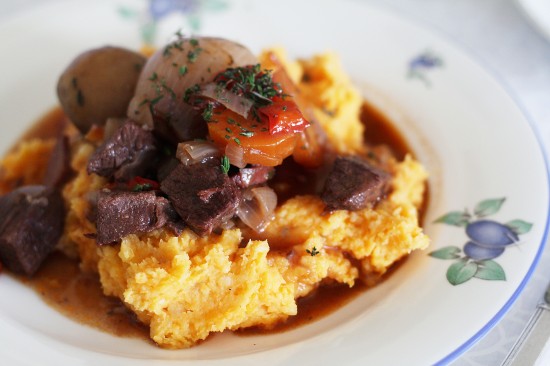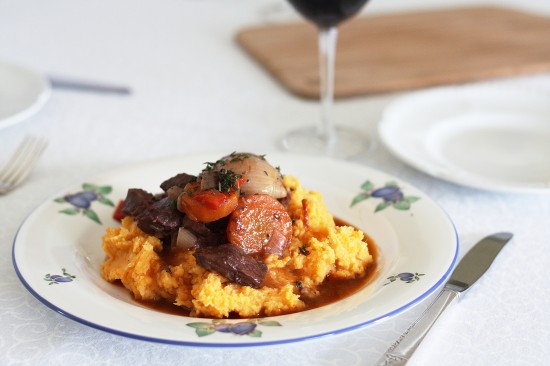 Beef bourguignon
40mls grapeseed or olive oil
1 large red or Spanish onion, diced
2-3 cloves garlic, crushed
2 medium or 1 large sized carrots, sliced in rounds
1 stalk celery, sliced in rounds
1 red capsicum, diced
1 heaped tblspn chopped, fresh thyme
Freshly ground black pepper and sea salt
120g diced middle eye bacon
1.2kg (1200g) chuck steak, trimmed and diced in largish pieces
1 heaped 20ml tblspn tomato paste
1 1/2 cups good red wine
2 x 20ml level tblspns plain flour
2 cups hot or at least warm, good beef stock
3 dried bay leaves
A decent knob of chilled, unsalted butter
6-8 brown shallot onions, peeled
200g brown, Swiss or field mushrooms, left whole (or diced if larger)
Handful continental parsley or extra thyme leaves, roughly chopped
Sweet potato mash
Equal parts sweet potato and white potato, peeled and diced (I don't peel white potatoes if organic)
Extra virgin olive oil
Unsalted butter
Ground cumin and chilli flakes
Finely grated parmesan
Freshly ground black pepper and sea salt
Beef:
Preheat oven to 160C.
In a large Dutch or French oven over low/medium heat, saute onion, garlic, carrots, celery, capsicum, thyme and seasoning in one tablespoon of the oil, stirring regularly until cooked down and onion is transparent.  Using a slotted spoon, move vegetables onto a plate and set aside.  Add remaining tablespoon of oil and turn up heat to high.
Saute bacon and diced beef (in 2-3 batches), sealing the beef until browned but not cooked through.  Add tomato paste and cook, stirring for a couple of minutes, then add wine, de-glazing the pan with a wooden spoon.  Add the vegetable mixture and flour and stir until combined.  Add the stock, bay leaves and more seasoning to taste, bring to the boil then remove dish from the hotplate and place in the oven for 2  hours, or until mixture has reduced and beef pieces have softened but are still whole.
Meanwhile, around an hour before the end of the casserole cooking time, saute the baby onions and mushrooms in the butter until golden brown and glossy but not cooked through.  Add butter/ mushroom/ onion mixture to the Dutch oven and cook for a further hour or so.
Stir in herbs once casserole is removed from the oven.  Allow to sit for ten minutes before serving then serve with potato mash.
Serves: 4-6
Adapted from: Taste
Potato mash:
Add potatoes to a large, heavy based pot and cover with water, cover and boil for 15-20 minutes or until vegetables are tender.  Drain then add pan of dry potatoes back to hotplate on low heat for a minute, or until all the moisture is removed.
Mash potato then add olive oil, butter, spices, parmesan cheese and seasoning to desired taste and consistency.  Use a wooden spoon to beat potato mixture for a minute or so until whipped and fluffy.