I make massive pots of this amazing soup every autumn/winter without fail; in fact I decided to buy a huge pot to accommodate it because the first time I made it, I didn't have a saucepan big enough and had to make it in two.  Over the years, I've made it my own by adding different ingredients and using my own cooking techniques, but I'm still grateful to this lovely book for it's beautiful recipes, including this soup.
It's the perfect cold weather soup; full of healthy, heart starting, delicious, rustic ingredients which work well together; the fresh kale and corn, thick and rich tomatoes with hearty lentils and rice, all rounded off with subtle herbs and spices.  If you have a big enough pot, I recommend making the whole recipe rather than halving it, firstly to eat then freezing the rest, as there's quite a bit of chopping, taking over the kitchen and such and the cooking time is a bit lengthy.  I find making it quite therapeutic and cosy anyway, as it always signals the start of autumn weather.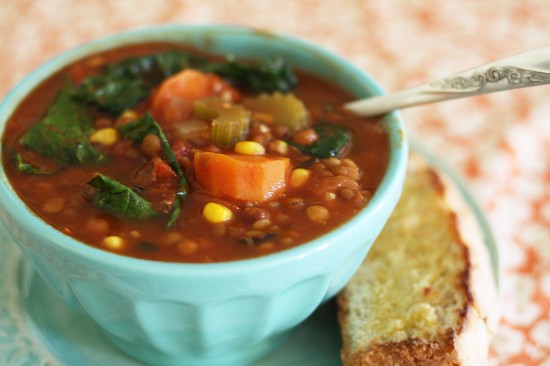 Recipe for Lentil, Vegetable, Rice and Tomato Soup with Kale:
2 x 15ml tblspns butter or cooking margarine
2 x 15ml tblspns grapeseed or olive oil
260g whole brown onion, peeled and chopped
5 cloves garlic, crushed
2 tspns ground cumin
Pinch chilli flakes
Freshly ground sea salt and black pepper
450g carrots, sliced into thick rounds
200g celery, sliced into thick rounds
8 to 10 cups low sodium vegetable stock
2 x 400g tins organic diced tomatoes, unsalted
2 tspns sugar
1 tspn Tuscan seasoning or fresh Thyme, chopped
375g pack green, brown or French style lentils
2 dried bay leaves
690g jar organic tomato puree
1/4 cup uncooked wild rice or black rice
1/2 cup uncooked brown rice
160g frozen corn kernels
100-150g baby kale leaves
A good handful fresh continental parsley, roughly chopped
Heat the butter and oil in a 6 litre, heavy based saucepan over medium heat then add onion, garlic, cumin, chilli flakes and seasoning, cover and reduce the heat to low then cook down slowly for around ten minutes, stirring regularly.  The mixture should be slightly caramelised and soft.
Add the carrots and celery to the onion mixture, toss through to combine and continue to cook down, covered, for a further 5 minutes.  Add 8 cups of stock, tinned tomatoes, sugar, Tuscan seasoning, lentils and bay leaves.  Cover pot, bring to the boil then simmer on low to medium heat for 40 minutes.  Add the tomato puree and wild rice, increase heat to high to bring to a boil, then reduce heat to low/medium and simmer for 20 minutes.  Add the brown rice then simmer further for 35 minutes or until both rices and lentils are cooked.  Make sure to keep pot covered and stir soup regularly throughout all the steps.
Add the corn kernels around 8 minutes before the end of cooking time.  Add a bit more stock if you prefer the soup thinner in consistency and continue simmering.  Add the kale and parsley after the pot has been moved off the heat and stir through.  Add a bit more seasoning to taste if you like, although you probably won't need it.  Remove the bay leaves with tongs.
Serve with crusty, buttered bread.
Serves: 10
To freeze:  allow soup to cool to room temperature in pot then spoon into freezer proof containers, leaving a couple of centimeters at the top for room to move when mixture is freezing.
Inspired by: At Home with Magnolia