I really enjoyed this cosy, spicy-sweet curry with classic spices, creamy sweet potato, nutty chick peas and fresh kale.
Confession: I cheated and used a bit of curry powder.  I realise it's a bit 1980s, how-your-nanna-used-to-make-curry, using curry powder, but I find it adds a rounded, warm sweetness and works really well with the other spices, a couple of which are in curry powder anyway.  You could try adding turmeric, ginger, mustard seed and fennel alternately, for a bit more curry street cred, since those are also some of the ingredients generally found in curry powder.
Also, I used tinned cherry tomatoes, which I received by error I think, when I ordered some tinned tomatoes from my organic grocery company.  They really added to the sweetness of this dish but of course you should use the larger tinned tomatoes if that's all you have.  In any case, I've decided it was a lovely error and will use cherry tomatoes from now on.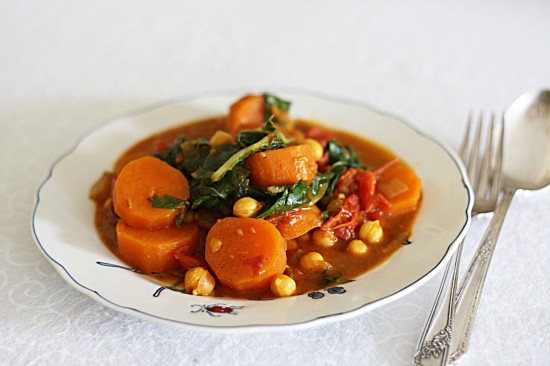 Recipe for Sweet Potato, Kale and Chickpea Curry:
20ml grapeseed or olive oil
1 diced medium sized onion
2 cloves garlic, crushed
1 tspn cumin seeds
1.5 tspns curry powder
1/4 tspn ground coriander
1/4 tspn cloves
Pinch chilli flakes or one diced fresh chilli, de seeded if desired
Freshly ground sea salt and black pepper
420g sweet potatoes, peeled and diced or cut in rounds
1 400g tin organic chickpeas, drained and rinsed or 240g cooked chickpeas
1 400g tin organic crushed cherry tomatoes or 400g fresh cherry or larger tomatoes
2/3 cup low sodium vegetable stock
150-200g kale leaves, chopped in bite sized pieces
125ml (1/2 cup) organic coconut milk
In large, heavy based saucepan, saute onion, garlic and spices in oil on low to medium heat, stirring regularly, until onion is transparent and softened, around 5-8 minutes.
Add sweet potatoes, tossing gently then add chickpeas and toss through, making sure everything is coated with the spice mixture.  Add tomatoes and stock, as well as more seasoning to taste, and simmer covered, for 25-30 minutes on low to medium heat, stirring regularly.
Add kale to the top of the curry with the lid on and allow to wilt for 2 minutes.  Stir in kale; add coconut milk and simmer on low for a few minutes to heat, making sure kale stays bright green.
Serve with brown rice or naan bread.
Serves: 4
Note:  any coconut milk left over can be frozen for a couple of months in an airtight container.  Defrost in fridge overnight, then stir before use.