Some days I feel like chocolate I just have a few squares of a plain, dark block with my coffee then there are days when I want comforting, creamy, sweet chocolate – it was the latter which inspired today's post.  I spotted a recipe a while back for Nutella hot chocolate and thought I'd give it a go but with some twists to it.
And whatever you do, don't go thinking Nutella is good for you (I'm only being a little bit cheeky).  This is one depraved hot chocolate, make no bones about it.  I guess you could say I don't do things by halves from the looks of this super easy, decadent hot chocolate drink and for sure you don't need the whipped cream and chocolate sauce or quite honestly the Nutella, but damn.  It's good.
You can use any milk you like with this – I used 2% (I know I know, it's the equivalent of eating hot chips with a diet coke but honestly, I could never see what was wrong with that since having a full sugar coke would be worse surely?).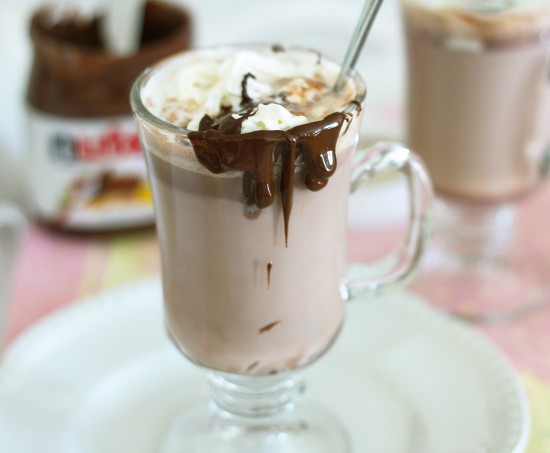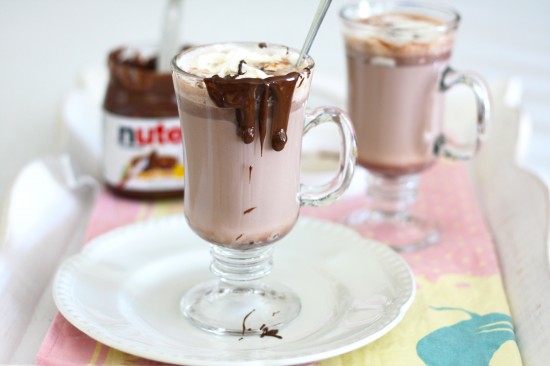 Recipe:
400mls milk of your choice (I used 2%)
3 x 20ml level tablespoons of Nutella
1 tspn vanilla essence
Whipped cream (I used the aerosol kind)
60g dark chocolate
Melt dark chocolate in a heatproof bowl over a simmering pan of water on medium heat.
Whisk milk, Nutella and essence in a pan over medium heat until Nutella has dissolved and milk is hot; pour into mugs.  Add whipped cream and melted chocolate.
Serves: 2
Note:  If you're concerned about the sustainability of Nutella, have a look around for other options.