Ok.  Eton mess in Autumn doesn't sound a seasonal appropriate dessert but .. we live in Queensland, Australia and it's warm still.
British Eton mess is one of those luscious desserts which is so easy and is basically a messy pavlova all piled up in a bowl with whatever fruit you like, although traditionally, Summer strawberries are used.  Along with the usual cool and thick cream and crispy yet chewy sweetness of the meringue, I added tart, syrupy kiwi fruit with little pomegranate jewels scattered throughout.
And meringues are surprisingly easy to make!  They take a little while but are pretty much fool proof, who'd have thought it?!  I always thought of them as being a bit complicated for some reason.  Anyway, you get a lot of bang for your buck with this dessert, it's low maintenance to put together but very whimsical and pretty and tastes wonderful.
And now on to serious business; removing the pomegranate seeds.  Officially we're supposed to tap the base of each pomegranate half over a board.  I have to admit, despite watching Nigella do this effortlessly I find it difficult and it never works, for me at least.
I used to cut the pomegranate in half then in pieces and removed the seeds by turning the pieces of the pomegranate skin inside out and plucking the seeds out by hand.  This still resulted in flinging a few of them across the kitchen by accident not to mention the juice going everywhere, looking like a scene in a horror movie and staining clothing.
Another option is to remove the seeds underwater which I've just started doing and this has worked really well – click for a good how-to link.  And – wear an apron or some other protection!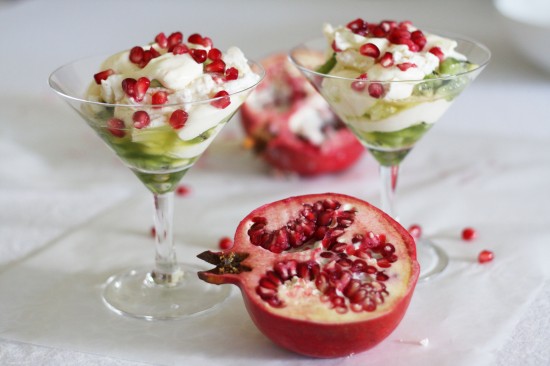 Recipe for Autumn Eton Mess:
Fruit:
2-3 tblspns pomegranate seeds (around 1/3 of a large pomegranate)
2 kiwifruit
2 x 20ml tblspns caster sugar
Cream:
100g thickened cream
80g crème fraiche
20g pure icing sugar
1/3 tspn vanilla bean paste
Meringue:
1 egg white (59g egg whole)
33g white caster sugar
33g pure icing sugar
5g cornflour
Meringues:
Preheat oven to 120C (110C for fan-forced oven).  Place baking paper over flat baking tray.  Find pretty glasses or bowls for the dessert and set aside.
Using an electric beater, beat egg white with a tiny pinch of fine salt in a medium sized glass bowl until you can see firm peaks forming (around 2 minutes).  Gradually pour in caster sugar while still beating egg white and continue beating until mixture is thick and glossy (around 1-2 minutes).  Sieve icing sugar and cornflour over the mixture and use spatula to fold through until combined.
Spoon mixture into 8cm mound onto prepared baking tray and baking in oven for 45 minutes or until meringue is dry, able to be lifted from the tray but not browned.  Turn off oven and leave meringue in oven until cooled completely – I left it for about an hour.
At the end of the meringue cooking time, peel, slice then dice kiwi fruit and place in bowl with caster sugar – mix gently to combine then set aside until you can see juice forming (around 2o minutes).
Place cream, crème fraiche and vanilla seeds into small to medium sized bowl.  Sieve over icing sugar and whisk with a hand whisk until soft peaks form.
Slice pomegranate in half and remove seeds (see note 3).
Place 1/3 of the kiwi mixture evenly into the base of each dessert bowl or glass.  Top with 1/3 of the cream mixture, then break 1/3 of the meringue over the top.  Continue layering with the rest of the ingredients.  Drizzle the sugar syrup left by the kiwifruit over the dessert.
Serve immediately.
Serves:  2 decent sized desserts (you could stretch this to 3, maybe 4 teenier desserts, which is what we should be eating anyway I suppose)
Note 1: Eggs are much easier to separate just cold out of the fridge
Note 2: Meringue can be made a few days in advance.  Make sure it's completely cool before storing in a cool, dry place in an airtight container
Inspired by:  Gourmet traveller