I couldn't resist buying these from my organic grocer; they looked so cool.
I thought I'd show them off in all their funky 70s purple glory and just roast them in a bit of rosemary, sea salt, garlic and olive oil.  I left the garlic in their skins as garlic is lovely this way, sweet and creamy when you remove the outer skin after roasting – Ant loves it when I cook garlic like this.  If you're not keen though, you could always thinly slice the garlic and toss with the carrots.  You could also throw in some red onion and beetroot if you had those lying around, as I did.
This rustic dish would be a great side for just about anything but I had a plate for lunch, on their own and they were delicious.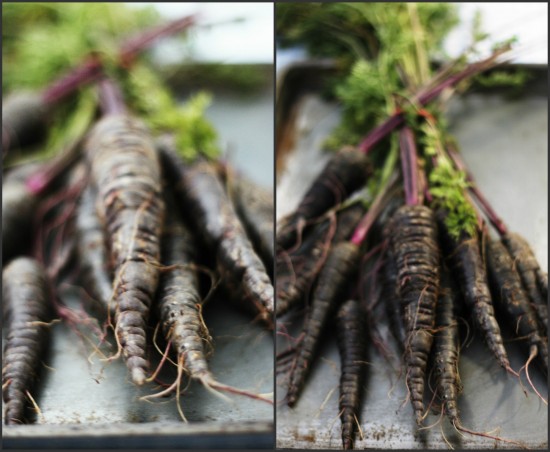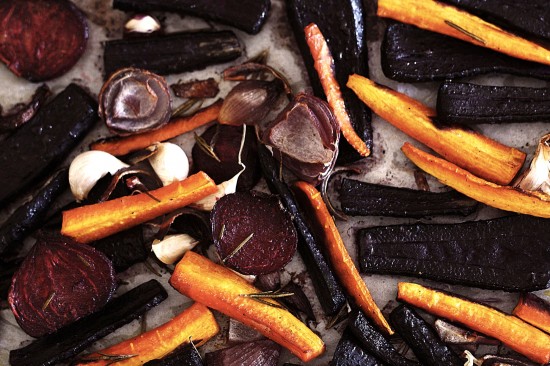 Recipe:
Big bunch whole purple or orange carrots
A couple of small beetroot
1 small red or Spanish onion
2 tblspns rosemary leaves
Handful whole garlic cloves, unpeeled
Grapeseed or olive oil
Freshly ground sea salt and black pepper
Preheat oven to 200 degrees C.
Scrub or peel carrots, then slice.  Peel and quarter beetroot and onion.
Toss vegetables with the herbs and garlic – drizzle with oil and add seasoning to taste.  Roast on lined baking sheet for 40-45 minutes, or until crispy skinned and cooked through.
Serves: 4 as a side