Friands are sweet, little, oval teatime cakes traditionally made with almond meal and egg whites.  I don't make them that often, not because they're difficult, they're not at all, but because they use egg whites which means you then have all these lovely egg yolks left over.
So last weekend for afternoon tea I put together a friand dessert using 4 egg whites and 4 egg yolks for convenience and pure scrumptiousness; walnut and fig friands with vanilla bean custard.  It's fig season now and I love to buy those gorgeous, pretty little fruits when I can and couldn't resist baking with them.
I love how spicy these were with a sweet little slice of fig but also, deliciously crisp around the edges with squidgy soft, almost damp, cake in the centre.  The warm, vanilla scented custard on the side was a decadent accompaniment.  I mean they're great on their own, but you wouldn't want to waste all those egg yolks (the yolk's the best bit anyway, I can't be having all this egg white omelet blarney, it's the whole egg for me).
Really lovely with a cup of coffee and a good book.  Or, if you're like me, watching Downton Abbey.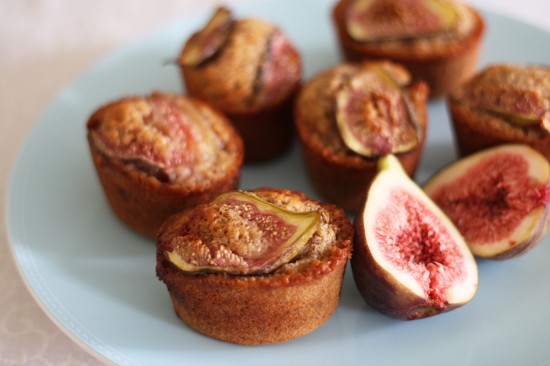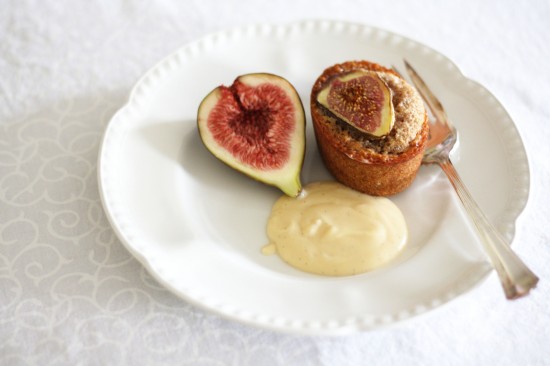 Recipe:
100g unsalted butter
4 large egg whites
50g plain flour
1/2 tspn ground cinnamon
1/4 tspn ground nutmeg
1 level cup pure icing sugar
80g walnuts
2 medium sized, ripe figs
Vanilla bean custard:
1 cup 2% milk
1 cup heavy cream
3/4 tspn vanilla bean paste
4 egg yolks
1 slightly rounded 20ml tablespoon cornflour
1/3 cup raw caster sugar
Preheat oven to 190C (170C fan-forced).  Place rack in the middle of the oven.  Butter 6 cups from a 12 cup friand tin, or 6 muffin cups with 1/3 cup capacity.
Melt butter and set aside to cool a bit.  Grind walnuts in spice grinder or mini food processor – make sure not to over-process as nuts can turn buttery.  You could also grind them using a mortar and pestle.
Slice figs thinly.
Whisk egg whites in a glass mixing bowl for around 40 seconds or until mixture is foamy.   Sift flour, spices and icing sugar into the egg whites and add walnut meal.  Mix gently with a wooden spoon until just combined.  Add butter and mix further until just combined.
Pour into friand or muffin tins and place slices of fig on each friand.
Bake for 25-28 minutes or until golden brown on top and tops spring back when pressed gently.  Alternately, you can insert a skewer into the centre of one to see if it comes out cleanly or with cooked crumbs attached.
Stand in tin for 8 minutes.  Run a butter knife around the sides of each friand then remove onto cooling rack.
Best on the day they're made however they can be frozen.  Once cooled completely, wrap in plastic wrap and store in freezer for up to a month.  Defrost at room temperature, wrap in foil and heat in 180C oven for 5-8 minutes or until heated through.
Makes: 6
Note: figs at their best and most ripe are slightly soft when you squeeze them lightly.
Vanilla bean custard:
Combine milk, cream and vanilla bean paste in a medium sized, heavy based saucepan.  Place over medium heat and cook, whisking initially to get rid of lumps then stirring constantly, for 5 minutes or until hot (do not allow to boil).  Remove saucepan from heat.
Whisk egg yolks, cornflour and sugar in a heatproof bowl until well combined.  Pour hot milk mixture over egg yolk mixture, whisking constantly.  Return mixture to saucepan over low heat and cook, stirring constantly, for 15 to 20 minutes or until custard thickens and coats the back of a metal spoon – don't let the mixture boil.
Store covered in plastic wrap in the fridge for later use.  I'd use it within a couple of days.
Serves: 6
Vanilla bean custard recipe adapted from taste.com.au