Here's a fresh, delicate, little salad we had the other day and both loved.  The peppery rocket, sweet, crisp pears and grapes, crunchy walnuts and creamy, salty Parmesan went so well together with the subtly sweet and tangy dressing.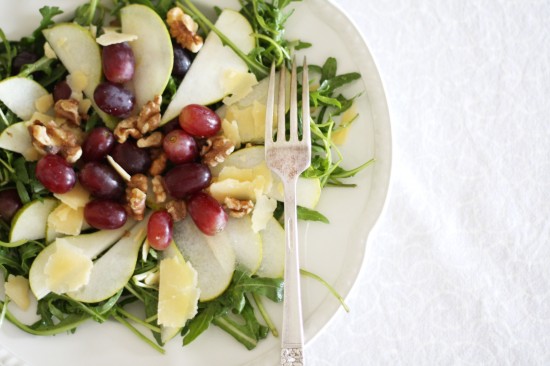 Recipe:
1 large, ripe but still crisp green or brown pear, sliced thinly
30g chopped walnuts (toast them if you like)
240g red or black seedless grapes
100g washed and dried rocket
25g shaved Parmesan cheese
Dressing:
10mls rice malt syrup, honey or agave nectar
5mls Dijon mustard
1 x 20ml tblspn white wine vinegar
2 x 20ml tblspn extra virgin olive oil
Place rocket in a bowl.  Shake dressing ingredients together in a small bottle or whisk together in a small bowl if preferred.  Add enough dressing to rocket to coat nicely then mix together with hands, leaving a bit of dressing aside.
Place dressed rocket on two plates and the rest of the ingredients over the top.  Drizzle with extra dressing.
Serves: 2