No you aren't dreaming or hallucinating.  This really is a thing – a wonderfully inspired recipe I discovered recently by lovely Sydney blogger Katrina Meynink, (also freelance food writer and recipe developer and lots of other things).  You could say I did a double-take.  Cookie dough chocolate brownies – no way!  As a long time brownie lover, I'm always on the lookout for brownies with a difference, and these are definitely that.
I did tweak the recipe a bit; only because I used what I had around, for instance I only had Belgian dark chocolate which looked to be around 50% cocoa solids so I threw in a bit more.  Sadly I didn't have the original recipe's m&m cookies, so I used chocolate chip cookie dough which I had in the freezer (I would recommend trying the m&m cookies though as they look so pretty and I think the candy would be a nice contrast with the brownie).
These brownies really are as good as they sound.  The warm, fudgy, chocolate texture and flavour competes very well with the sweet, crunchy cookies and even though I'm sad about not having m&m cookies, the chocolate chip cookies were a really good substitute.  To be honest, these are two of my favourite treats combined into one and that's no small thing.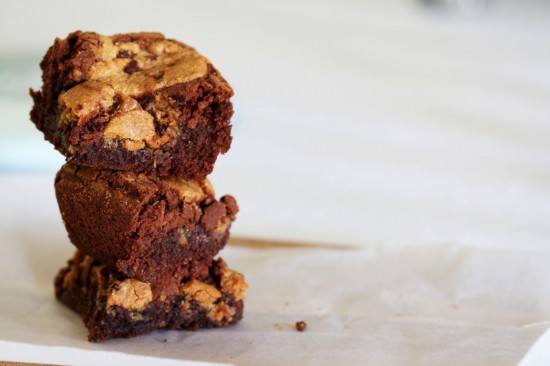 Recipe (halved):
225g cookie dough (I used Aunty Kath's)
150g dark (50%) chocolate, roughly chopped
125g unsalted butter, softened at room temperature
250g raw caster sugar
2 large eggs
15mls rice malt syrup or golden syrup
1 vanilla bean, seeds scraped or 1 tspn vanilla bean paste
1 1/4 cups plain flour
1 tspn baking powder
Small pinch salt
Preheat oven to 150C.   Grease and line with baking paper, a 20cm square baking tin.
Cut the cookie dough into chunks and freeze while prepping the brownie.  In a heatproof bowl over small pan of simmering water, melt the chocolate, stirring constantly until melted, then remove bowl from the pan and set aside.
Combine butter and sugar in a bowl and beat until pale and creamy.  Add the eggs one at a time and beat well after each addition. Add the melted chocolate, brown rice syrup and vanilla bean, stirring gently to combine.  Sift in flour, baking powder and salt and mix until just incorporated then scrape into baking tin.  Gently push the pieces of cookie dough into the top of the brownie mix.
Bake for just over an hour; insert a skewer into the centre and if there's a few moist crumbs attached, they're ready.
Allow to cool in the tin before slicing into squares (as you can probably tell, I didn't do this, I can never do this because warm brownies just out of the oven are heaven on a plate).
Serves: 16
Recipe adapted and reprinted with kind permission from: la petite miette – the little crumb