Happy Pancake Day to all my beautiful readers.
This was really just a reason to make pancakes for breakfast today as I love them and to be honest, I never need much of an excuse.  In my opinion every day should be pancake day!
They were lovely; fluffy pancakes with the classic flavour combination of creamy peanut butter and chocolate chips – I'm pretty sure these would be kid-friendly as well (and I'm just a big kid so I'd know).
I loved them warm from the sizzly pan with just a light drizzle of golden syrup.  They don't need much embellishment as the flavour stands out on it's own.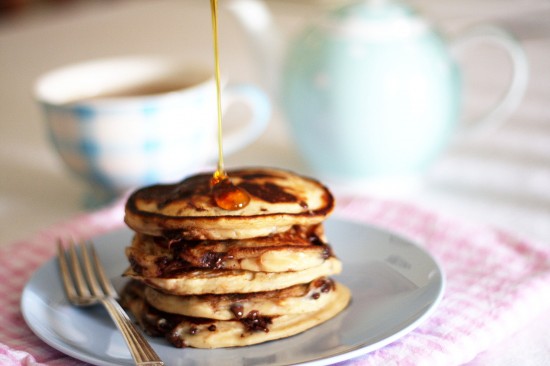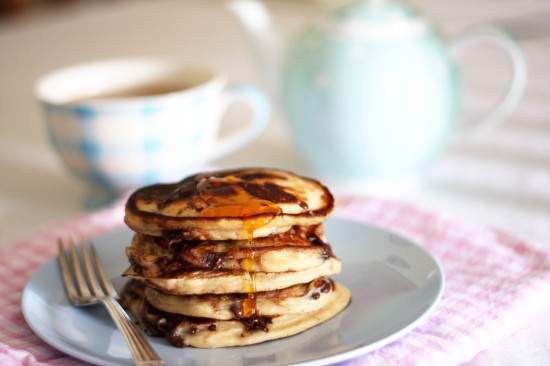 Recipe:
2 cups self raising flour
1/4 tspn fine sea salt
3 x 15ml tblspns raw caster sugar
2 cups buttermilk – left at room temperature for 10 minutes
100g peanut butter of your choice, softened at room temperature (I used crunchy)
2 eggs, at room temperature
90g dark or milk chocolate chips (I used dark)
Golden syrup to serve
Sift flour, salt and sugar into a medium sized bowl – add chocolate chips and toss quickly with a wooden spoon; in a separate jug add buttermilk, peanut butter and eggs and whisk until well combined.  Make a well in the centre of the flour, add wet ingredients and fold gently until just combined – don't over beat the mixture.  Sit mixture aside for 15 minutes.
Heat heavy based frypan or griddle on medium heat.  Add a knob of butter or margarine to pan and swirl around to coat the base.  Pour 1/4 cups of pancake mixture into pan and cook until small bubbles are forming on the top, about 1-2 minutes.  Flip pancakes over and cook for a further 1-2 minutes until cooked through.  Continue with the rest of the pancake mixture, making sure to add butter to the pan between each batch of pancakes.  Place pancakes on a plate on top of each other and cover with foil to keep warm while you're cooking.
I had to turn the heat down on the hotplate after I cooked a couple to prevent burning – I did ahem, overcook mine a bit as you can see.
Serve with a light drizzle of golden syrup.
Makes: 12 pancakes
Note:  you could try these with wholemeal flour, unfortunately I didn't have any today.  I would add a splash or two more buttermilk if you use wholemeal as it tends to suck up moisture really quickly.