I found this wonderful recipe for healthy candy bars recently (check out the rest of the site, it has tasty recipes for healthy minded people).  I have a big bag of quinoa puffs which, while I love to eat them for breakfast, I wanted to do something a bit more fun with, so I thought I'd make these chocolatey treats on a sunny morning to have with a cuppa.
These bars are very hard to turn down.  They have a lovely toffee/chocolate flavour, like a proper candy bar, but also differing textures of crunchy, creamy, nutty and fudgy which is very appealing.  They're also a much healthier option than the ones you buy from the shop but having said that, there's still some sugar going on.  So when you reach for your 2nd or 3rd bar with your cup of morning coffee (oops), you've been forewarned and forearmed.
I halved the original recipe as there's only two of us at home, and tweaked a couple of things.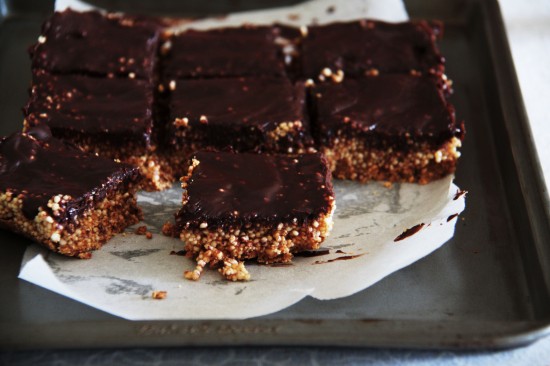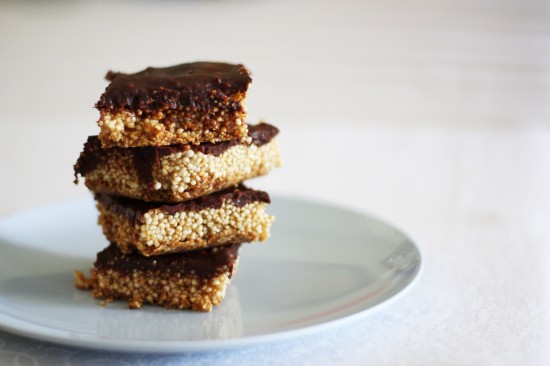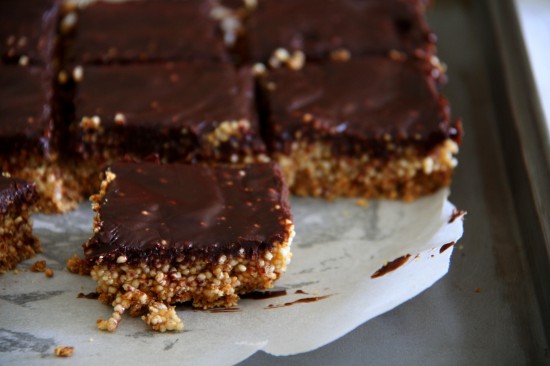 Recipe:
6-10 dates, pitted (depending on size, I used 10 small)
3/4 cup raw peanuts, toasted in 180 degree oven for 5 minutes
1 1/2 cups quinoa crispy puffs
1/2 cup plus 10mls brown rice syrup
3/4 cup dark chocolate chips
20ml milk of your choice
Place the dates and peanuts in a food processor and blend on medium speed, stopping to scrape down the sides occasionally.  Once the mixture is of a chunky consistency, blend on high until mixture is smooth.
Transfer the mixture to a greased and lined square baking dish (the smallest one I had was 18x18cm – if you can use one a bit smaller, the bars will be taller).  Using the back of a large spoon (or your fingers) press the mixture into the dish to form the first layer.  If you have excess oil from the peanuts simply use a paper towel to absorb it once it's in the dish.   Set aside.
Add the quinoa puffs to a bowl and set aside.
Heat 1/2 cup syrup in a medium sized saucepan on medium/high until bubbles start to form.  Remove from heat and immediately pour over quinoa puffs.  Stir to combine and pour over peanut layer in baking dish.
Gently press the puffs into the baking dish to form the second layer.
In a metal bowl over a saucepan about 1/4 full with simmering water on medium heat, add the chocolate chips  and 2 tbsp milk and extra tablespoon of syrup or to taste, stirring continuously to melt the chocolate and until the mixture is combined and smooth.  Add a bit more milk if mixture is too thick.
Remove the chocolate bowl from the heat and pour the mixture over the rice puffs, using a spatula to smooth it.
Place the bar into the fridge for around 15-20 minutes or until set.  Using a sharp knife, slice into pieces.
Makes: 9 bars
Adapted from and printed with kind permission from: The Joy of Clean Eating
Edited note: I buy my quinoa puffs from Organic Road (Australia)