I've never appreciated the appeal of bread pudding – I always thought it would taste bland and I just couldn't understand how bread belonged in a pudding.  While shopping for Christmas I came across some brioche loaves which looked gorgeous and fluffy and sweet, thinking I would have some toasted with tea or something.  But then for some reason I decided to make brioche pudding because well, that sounds so much more luxurious than bread pudding.  So I made it over Christmas, for Christmas Eve in fact.
I was amazed at how delicious this incredibly easy dessert was … it's the very definition of pudding and is everything pudding should be; squidgy-soft, vanilla-sweet custard soaked bread with ever so slightly crispy sugary topping.  If you were inclined, you could slice some peaches and place them in the baking dish before you pile on the bread and custard.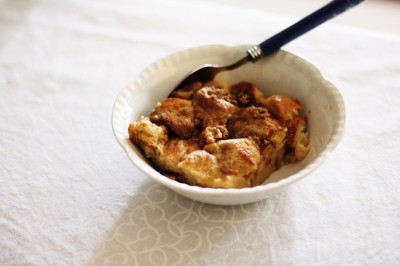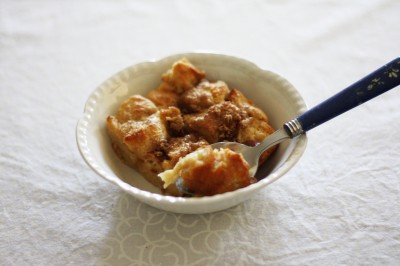 Recipe:
400g brioche loaf
3/4 cup pouring (single) cream (can sub Greek yoghurt)
3/4 cup milk (I used 2%)
2 large eggs
1/2 cup packed brown sugar + 2 x 20ml tablespoons extra
1 teaspoon vanilla essence
Dice brioche into 2cm pieces and place in greased ceramic baking dish – I used a 21cm square dish which was 6cm high.
Whisk all other ingredients together (except extra sugar) until well combined and pour over the brioche pieces.  Squash the brioche into the custard with your hands.  Sprinkle the extra 2 tablespoons brown sugar over the top.  Leave to sit for 15 minutes so the bread absorbs the custard mixture.
Place in preheated 180C oven for 35-40 minutes or until custard is just set and top is lightly browned.
Serves: 6