I made a pretty cake yesterday to celebrate my other half's birthday.  Happy birthday to my darling Ant.  We're on holidays at the  moment and it's wonderful.
This cake was dreamy .. I really loved the chocolate flavour combined with a surprising fluffy cloud of vanilla frosting; kind of unexpected, like brown eyes with blonde hair, you don't see it often but when you do it's lovely.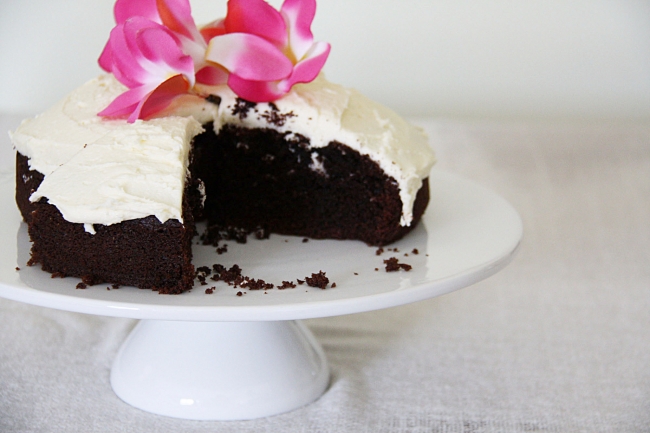 Recipe:
Cake:
200g plain flour
200g raw caster sugar
1 tspn baking powder
1/2 tspn bicarbonate of soda
1/4 tspn fine sea salt
40g good quality cocoa
175g unsalted butter, softened at room temp
2 large eggs (59g whole weight)
2 tspns pure vanilla extract
150mls sour cream or creme fraiche
Vanilla butter cream icing:
1/2 cup unsalted butter, softened at room temp
3-4 cups pure icing sugar, sifted
60mls milk
1 teaspoon pure vanilla extract
Around 15-20 minutes before making the cake, take everything out of the fridge so that all the ingredients can come to room temperature.  If you haven't taken your butter out by this time I can't help you.  Except to say I forget to do this all the time and it results in crushing disappointment and self recriminations.  Anyway.
Preheat the oven to 180°C.  Grease a 20cm x 6cm cake pan with removable base and line with baking paper.
Place all of the cake ingredients into a food processor and process until the batter becomes smooth and thick.  Scoop batter into prepared pan and bake until a skewer comes out clean, at around 40-45 minutes.
Remove the cake pan onto a wire rack and let cool for 10 minutes before turning out.  Cool completely before icing.
Icing:
Place butter, 2 cups icing sugar, milk and vanilla into a large mixing bowl; beat on medium speed with an electric mixer until smooth and creamy, about 4-5 minutes.  Gradually add the remaining sugar, 1/2 cup at a time, beating well after each addition for another couple of minutes or until the icing is smooth and thick enough to be of good spreading consistency.  You might not need all the icing sugar (I find this depends largely on the weather; if humid, then I use all the icing sugar; if drier, then I use a bit less).
Use and store the icing in small, well sealed container at room temperature for up to 3 days.
Cake and icing recipes adapted from: