I was thinking recently, there just isn't enough spice around when it comes to baking.  It's not that easy to find ready made spice biscuits or cake in Australia and it's not a favourite flavour for most people I know.  Personally, I love the warmth of spice baked goods and they seem so comforting and sweet.
So I made this buttermilk spice cake the other day.  It tasted lovely, all spicy and fragrant and soft with the sweet drizzle icing.  I'm pretty sure you could make muffins out of this batter (for portion control, god knows I need portion control or maybe even self control.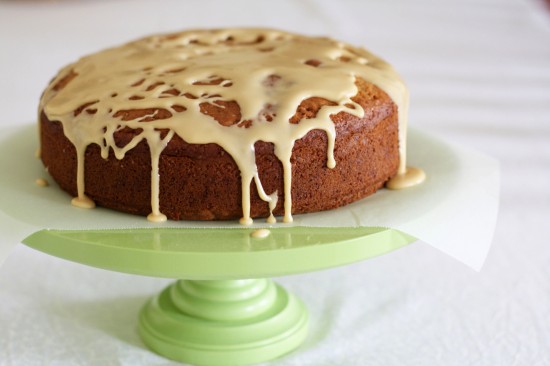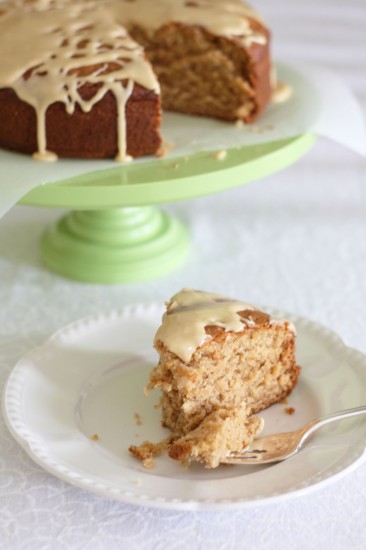 Recipe:
2 1/2 cups cake flour
1 tspn baking powder
1 tspn bicarb of soda
1/4 tspn salt (leave this out if using margarine)
1 tspn mixed spice
1 tspn ground cinnamon
1/2 tspn ginger
1/4 tspn ground nutmeg
120g (1/2 cup) unsalted butter, softened at room temperature (can sub baking margarine)
1/2 cup light brown sugar, firmly packed
1 cup raw sugar
2 large eggs, at room temperature
1 tspn vanilla extract or maple extract
1 1/4 cups buttermilk
Preheat oven to 180 degrees C.  Grease 20cm x 6cm spring-form cake tin with butter.  Place baking paper on the base of tin.
Sift together the flour, baking powder, soda, salt and spices.  Cream butter and sugars in a mixing bowl using electric mixer on medium speed for 3-5 minutes, or until light and fluffy; decrease speed to low then add vanilla and eggs, one at a time, beating just until combined, scraping bowl regularly.   Add sifted dry ingredients, alternating with buttermilk and ending with the flour mixture, beating on low speed until just combined (don't over-beat the mixture – I usually finish folding with a wooden spoon).
Pour batter into prepared cake tin and smooth top with a butter knife.  Bake for 40-45 minutes, or until a skewer inserted in center comes out clean.
Cool in pan on cooling rack for 8 minutes; then turn out of pan onto rack to cool completely.  Once cake is cool, drizzle with maple icing.
Maple drizzle:
1/2 cup icing sugar
3-4 tblspns maple syrup
1 tspn maple essence, if you have it
Sift sugar into small bowl.  Add maple syrup and essence and stir with wooden spoon until smooth and of drizzling consistency.  Add more syrup if too thick.
Tip for one cup of cake flour:  I don't tend to buy cake flour so as per a recipe I spotted online a few years back, I place 2 level 15ml tablespoons of cornflour into the bottom of a cup measure, then add plain (all purpose) flour until it reaches one level cup (per amount in recipe) then sift a few times.
Serves: 8
Adapted from: southernfood.about.com