Is there anything better than the warming fragrance of home made cookies baking?  These chewy, spicy and sweet cookies were a delight and were made with oil rather than butter.  Just an excuse to have more I think.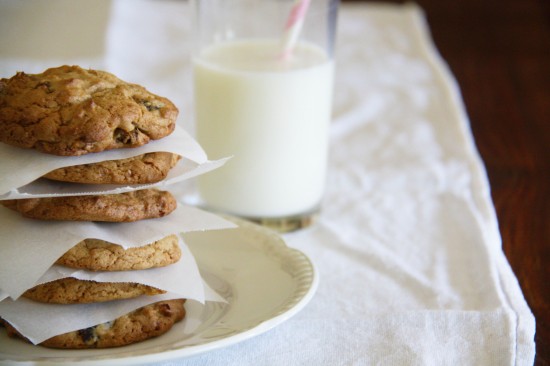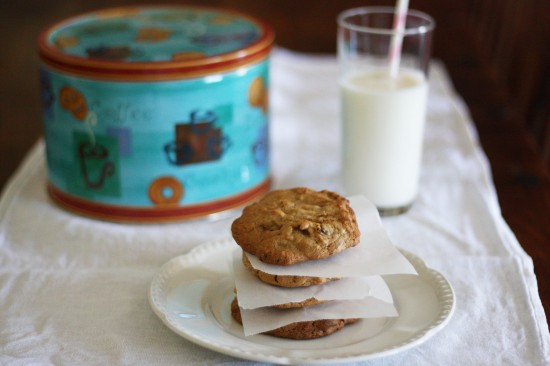 Recipe:
1/2 cup pitted dates, roughly chopped
1 cup firmly packed brown sugar
1/2 cup grapeseed oil
1 egg (59g whole weight)
1 tspn vanilla or maple extract
3/4 cup self raising flour
3/4 cup plain flour
2 tspn ground ginger
80g toasted pecans, chopped finely
Preheat oven to 180 degrees C.  Line 2 baking trays with non-stick baking paper.
Place dates in a heat proof bowl and cover with just boiled water.  Soak for 5 minutes then drain well, patting with paper towel.
While dates are soaking, whisk sugar, oil, egg and extract in a large mixing bowl.  Add flours, ground ginger, pecans and dates and stir until combined.
Roll mixture into portions and place on trays, leaving 5cm between cookies.  Press cookies with a fork slightly to flatten.  Bake for 14 minutes or until light golden.
Cool cookies on trays for 5 minutes then move to rack to cool.
Adapted from: taste.com.au
Makes: 12-15 cookies
Note:  to toast pecans, place on baking paper lined baking tray and place in preheated, 180C oven for 5-7 minutes, or until fragrant.