I started drinking Chai tea a few years back.  Being a tea and spice lover, I instantly appreciated it's spicy, comforting, warming flavour and it became one of my favourite teas.
I'd love to say this is a traditional recipe and I've certainly done my best coming up with some lovely flavours, however there are literally hundreds of Chai recipes and they all seem to be different.  I love my Chai to be sweetened with honey as it's a rounder, deeper flavour than plain sugar; I prefer slightly more flavour from the cinnamon, with a slight kick from some fresh ginger and black peppercorns and less of the cloves and cardamom.  I also love a slight citrus twist from some fresh orange peel.
It's important to know though, that Chai is all about being an ensemble recipe.  The flavours and spices are all necessary to work well together.
A piece of advice – be conservative with your spices until you get to know what works.  I purchased some Chai from a reputable tea company in Australia a while back and the clove smell and taste was too overpowering for me to drink.
So forget about Starbucks and that packet stuff in the supermarket – make your own healthy, fresh Chai latte.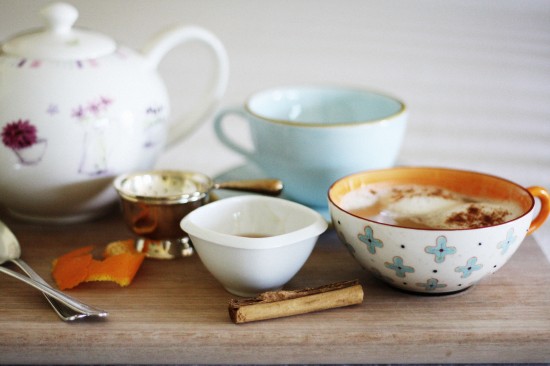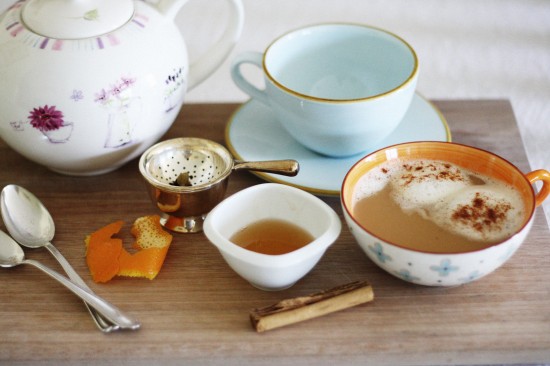 Recipe:
Organic black tea leaves (I use a heaped teaspoon per person/cup)
Orange peel
Black peppercorns
Cinnamon stick
Fresh ginger
Cloves
Cardamom seeds
Organic soy milk
Honey
Ground cinnamon
Place as many tea leaves, spices and orange peel to your liking in teapot; add boiled water which has been sitting for a few minutes (i.e. not just boiled) and allow to steep for 5-7 minutes (the longer the better).
Heat milk in a pan on the stove until hot but not boiling.  If you want frothy milk, use coffee machine milk wand to achieve frothy milk (or buy a milk wand, they're quite cheap and work really well but you do have to heat the milk first).
Pour out tea into teacups using tea strainer.  Add milk and honey to taste.  Spoon some milk froth onto tea and sprinkle ground cinnamon on top.